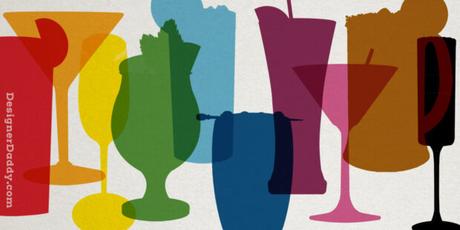 June is without a doubt my favorite month. In addition to kicking off summer, June contains my birthday, Father's Day and Pride. Seriously, can this month get any more fun? Yes! In honor of this most fabulous of months, I've stirred up a rainbow of delicious summer cocktails - one for each color of the LGBTQ Pride flag.
To keep the festivities fun and safe, here are a few pointers courtesy of Responsibility.org:
Measure your drinks and cocktail ingredients. Familiarize yourself with the go-to bar measuring tool, a jigger. You can also use this handy Virtual Bar to help manage your alcohol intake.
Have water and non-alcoholic drinks available. I've included a couple of mocktail recipes in the list below!
Provide food to guests, and make sure you snack as you imbibe/host.
Check to make sure your guests have safe rides home.
Take some time to talk to your kids about alcohol and underage drinking, especially if they're going to present at your get-together.
Feel free to click and print individual recipes, or share on social media. Scroll down to the end for even more tips on making and enjoying these colorful cocktails!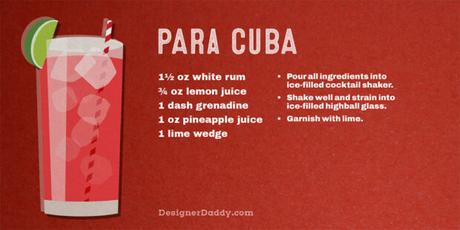 I'm gonna be honest - I'm not sure this is a real cocktail. I found it on a site where you could search drink recipes by color and this one looked super yummy and summery. But after finishing this entire post, I googled "Para Cuba" and found nothing - other than the recipe on the aforementioned site. Anyhoo...I made it, and it is, in fact, super yummy and summery!
1½ oz white rum
¾ oz lemon juice
1 dash grenadine
1 oz pineapple juice
1 lime wedge
* Pour all ingredients into ice-filled cocktail shaker.
* Shake well and strain into ice-filled highball glass.
* Garnish with lime.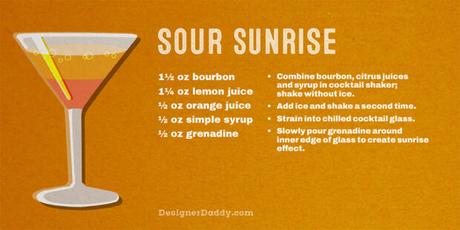 A fun twist on the tequila sunrise, this citrusy summer cocktail uses grenadine to create a floating sunrise in this bourbon-based drink. Great for brunch or an evening drink on the beach. Pro tip: Unlike other sunrise cocktails, there's no ice here to filter the grenadine. Thus pouring it around the edge of the glass (instead of straight into the drink) helps it sink to create the sunny effect.
1½ oz bourbon
1¼ oz lemon juice
½ oz orange juice
½ oz simple syrup
½ oz grenadine
* Combine bourbon, citrus juices and syrup in cocktail shaker; shake without ice.
* Add ice and shake a second time; strain into chilled cocktail glass.
* Slowly pour grenadine around inner edge of glass to create sunrise effect.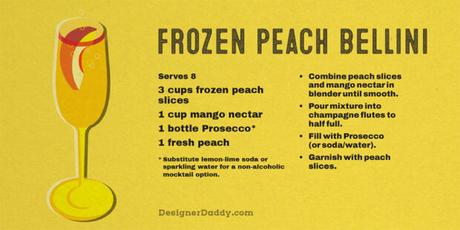 While this drink requires a bit more work, you can make a big batch all at once. Makes for sweet, bubbly refreshment for any summer soirée!
Serves 8
3 cups frozen peach slices
1 cup mango nectar
1 bottle Prosecco, chilled (substitute lemon-lime soda or sparkling water for a non-alcoholic option)
1 fresh peach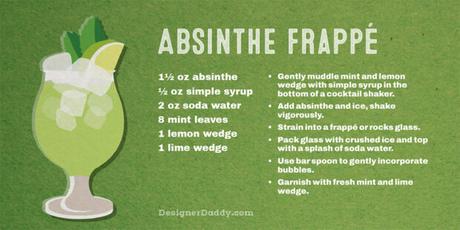 Invented in New Orleans in 1874, the absinthe frappé was originally a morning pick-me-up. This particular recipe incorporates some subtle citrus flavor from the muddled lemon, but it will still administer the same refreshing kick either way.
1½ oz absinthe
½ oz simple syrup
2 oz soda water
8 mint leaves
1 lemon wedge
1 lime wedge
* Gently muddle mint and lemon wedge with simple syrup in the bottom of a shaker.
* Add absinthe and ice, shake vigorously.
* Strain into a frappé or rocks glass.
* Pack glass with crushed ice and top with a splash of soda water.
* Use bar spoon to gently distribute the bubbles.
* Garnish with fresh mint and lime wedge.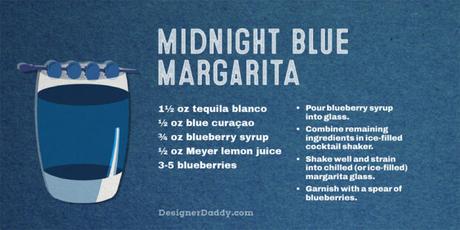 Midnight Blue Margarita
Perfect for a hot summer night, this dark blue variation on the warm weather classic is a bit sweeter and a lot more dramatic. Pro tip: Make your own blueberry syrup by bringing a 1/2 cup each of water, sugar and blueberries to a boil. Simmer for 5 minutes, let cool, then strain out berries.
1½ oz tequila blanco
½ oz blue curaçao
¾ oz blueberry syrup
½ oz Meyer lemon juice
3-5 blueberries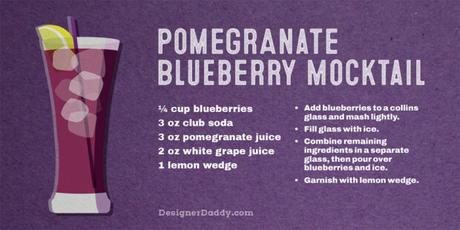 Pomegranate Blueberry Mocktail
It's always good to have non-alcoholic drinks at your gathering, so why not offer something a little more enticing than soda? The combination of pomegranate and blueberries makes for a pretty purple drink, as well as one popping with antioxidants! Pro tip: Make a version with alcohol by replacing half the soda with 1 ounce of vodka and a 1/2 ounce of pomegranate liqueur.
¼ cup blueberries (fresh or frozen)
3 oz pomegranate soda
3 oz pomegranate juice
2 oz white grape juice
1 lemon wedge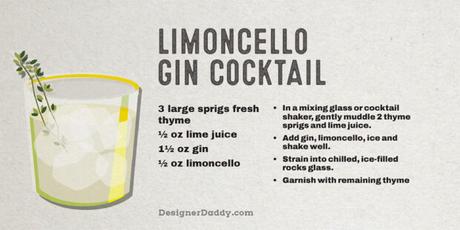 Limoncello Gin Cocktail
The first time I tried limoncello was in Italy, and I described it as having notes of Lemon Pledge. I was not a fan. However, when used here, its lemony intensity makes for a tasty summertime cocktail! Pro tip: For an even more flavorful cocktail, grill the thyme sprigs for about 15 seconds before muddling.
3 large sprigs fresh thyme
½ oz lime juice
1½ oz gin
½ oz limoncello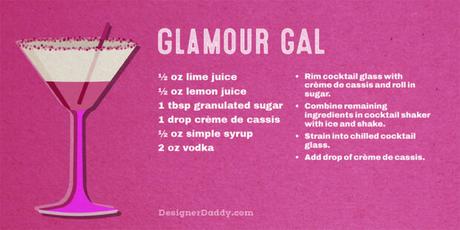 This simple (but very sparkly) drink was created for the release of Sex and the City 2. While I doubt it will ever match the popularity of the cosmo, this is a great alternative when your summer party calls for something sassy and pink.
½ oz lime juice
½ oz lemon juice
1 tbsp granulated sugar
1 drop crème de cassis
½ oz simple syrup
2 oz vodka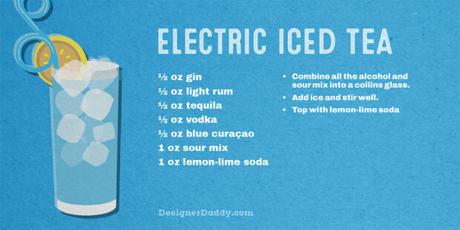 A blue-hued variation on Long Island Iced Tea, perfect for pool parties and other watery get-togethers. Pro tip: Tame this drink's substantial punch by reducing the spirits and increasing the soda.
½ oz gin
½ oz light rum
½ oz tequila blanco
½ oz vodka
½ oz blue curaçao
1 oz sour mix
1 oz lemon-lime soda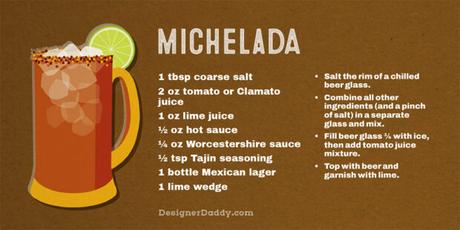 Michelada
Definitely the most savory beverage on this list. The michelada is a traditional Mexican drink, similar to a Bloody Mary but with a mellower beer taste. Pro tip: Substitute Clamato for tomato juice for a zestier flavor, and spice it up (or down) with varying amounts of hot sauce. ¡Salud!
1 tbsp coarse salt
2 oz tomato or Clamato juice
1 oz lime juice
½ oz hot sauce
¼ oz Worcestershire sauce
½ tsp Tajin seasoning
1 bottle Mexican lager, chilled
1 lime wedge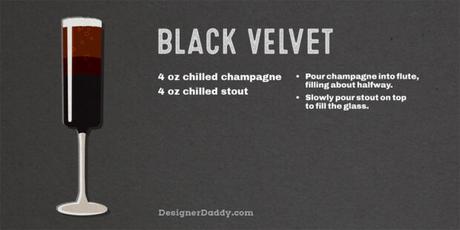 A velvety smooth melding of heavy and light, celebratory and relaxing. The Black Velvet was created in England in 1891, while the country mourned the death of Prince Albert. A bartender at the Brooks Club in London thought champagne was too happy for the occasion, so added the dark beer. Somber origins aside, this works as a great brunch or after-dinner sipper.
4 oz chilled champagne
4 oz chilled stout
* Pour champagne into flute, filling about halfway.
* Slowly pour stout on top to fill the glass.
SUMMER CELEBRATION TIPS & TRICKS
Whether you're showing your pride, honoring father figures, having a birthday or hosting your first anything in well over a year, here are a few pointers (with some help from Liquor Lab) to make your celebrations sensational and safe.
When creating a cocktail, combine non-alcoholic ingredients in your cocktail shaker or mixing glass first. Taste for the right flavor balance, adjust as needed, then add the alcohol.
There's no magic number of shakes when using a cocktail mixer. I like my drinks as cold as possible, so I basically shake it until the outside is too cold to touch!
When adding salt, sugar or other spices to the rim of a glass, wet the outside edge with a wedge of whatever fruit you're using in your drink (or water, if not using fruit). Pour your spices into a shallow plate or bowl, then tip it up slightly and swirl the outside edge of the glass until evenly covered. Avoid putting the glass down flat into the spices and twisting, as that may get too much spice inside the glass, affecting the flavor or texture of the cocktail.
Attending a party but don't know the menu - or if there will be food at all? Bring along a protein bar or trail mix just in case.
If you're like me, you haven't used ride apps in a long time. Make sure they're all updated and uploaded, in case you need a ride for yourself or your guests to get home safely.
Let me know if you try any of these simmering summer cocktails, and feel free to share your own favorites in the comments. Here's to a colorful, wonderful June (and July, and August...). Happy Pride!
Responsibility.org is all about responsible alcohol choices. Please check out their site for valuable info for parents and non-parents alike. An important fact: parents are the leading influence on a child's decision to drink (or not drink). When conversations about alcohol between parents and kids increase, underage drinking decreases.
As a brand ambassador for Responsibility.org, I am being compensated to write this post. However, all opinions are my own.

comments