This was a very weird and strange summer, very different since the last 9 years. The premier league, my favorite sports league involving my favorite sports team Arsenal, snuck up on me! Usually I am doing everything short of sitting around with a calendar and marking days off to welcome in a brand new season. I scour remote sources on the internet for Arsenal related articles, I refresh the Arsenal website (which BTW is my homepage) hoping for some breaking news, I sit watching Arsenal related videos on YouTube all in anticipation of the upcoming season. This season however, things were different. I read maybe a handful of Arsenal related articles a day and never sat around watching any videos. I guess you can blame those brilliant Olympics for briefly brushing Arsenal under the carpet!
But of course that was only temporary. The premier league is BACK!! Football is BACK!!
Shockingly, and hilariously, it seems like Man City are short a couple of players! Five goals conceded in three games against a newly promoted team, QPR, and a Liverpool team that has all of ZERO natural goal scorers is pretty poor. But the oil in the Middle East is not drying up any time soon and they will probably splurge more money. Man United will be fine like they always annoyingly are. (As an Arsenal fan that sentence was painfully hard to write). Personally, I think Rooney's injury is a blessing in disguise. Overall I think he is a better player than Van Persie, but if it's a straight choice between the two of them right now, Van Persie is slightly the better player, and has been for the last year. Much like the "noisy neighbors" however, their defense looks shaky. Ferdinand is very injury prone, Vidic is just returning from a season long injury and Evra is washed up. But somehow, they will be fine and end up having a good season.
On a side note, as an Arsenal fan it is absolutely gut wrenchingly hurtful to watch Van (Purse)y in the red of United, and do so well. It is obvious watching Arsenal that Podolski was bought with the intention of playing alongside RVP, and Giroud as a replacement for RVP. Watching Giroud struggle so mightily in the last 3 games and RVP thrive really makes my blood boil! Imagine Cazorla, Arteta, Patrick Yaya Diaby (Don't laugh! He really was that good vs Liverpool!), Podolski, Walcott and RVP all playing together! (Looooong sigh…)
It's still fun to laugh at Liverpool. As I write this, they are even talking about bringing Michael Owen back! I will confess though, I love watching Suarez play. He is an annoying prick who is always agitating and looking agitated, but he is full of deception (I am not talking about his diving!), trickery and has brilliant feet. Watching him play you always get the feeling he is trying his hardest, unlike say a Mr. Andrey Arshavin.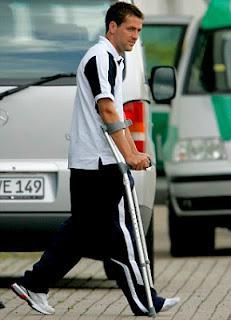 You really want him back?
Keeping my Arsenal bias aside and looking at it purely as a football fan, it is brilliant to see Everton doing well. There's something charming about a small club showing immense loyalty, financial prudence and principals doing well. They are a collection of unglamorous players who every week bust their gut and just play football. No drama and no frills. If they can keep a hold of their players, who knows where they can finish?
Chelsea are the most intriguing to me. Prior to the season starting, I thought finishing fourth will be an achievement for them. But hell they have started the season on fire! They usually do, so I probably shouldn't get carried away, but watching their games, they look like a group of players with great chemistry who like playing with each other and know their roles to perfection. Most importantly they seem to know how to win! And Torres looks good, which means he will probably get injured in the next month!
All in all, the premier league in the 3 weeks so far has churned out its usual dose of talent, flair, fast pace action, relentless passion, contrasting styles, heartbreak (Southampton against both Manchester clubs) and exhilarating excitement. 
Here's to 8 more months of this brilliance!