I love sport! What a brilliant summer of sport this has been! We've had theincredible Olympics, an outstanding test series for the number one rank between England and South Africa, the arrival of golf's newest sensation in Rory McIlroy, the best and closest Formula1 season in as long as I can remember, athrilling start to the new football seasonand finally, the belated coronation of a new champion in Tennis! My god Andy Murray is a Grand Slam champion! Bloody hell the British finally have a Grand Slam champion after 79 years!! All this means that the Mayans were right all along, the world is coming to an end!!
This championship for Murray is long overdue and historic. Historic not only because it ended such a humongous and monstrous title drought for a nation, but because his career will now be looked at differently. I think we can all agree that sport is as much a test of mental fortitude as it is physical ability and talent. Think of the number of elite athletes who fall short on the biggest of stages because they lack mental strength. Asafa Powell, Karl Malone, Charles Barkley, Greg Norman and Colin Montgomerie, Tony Romo, Rubens Barichello, The Arsenal Football team from 2006-2011 (Sighhhhhh…..), The South African Cricket team. This list can go on and on and on. For a while, Murray was precariously close to getting sucked into that list. The only person on this list with a major title is Greg Norman. But he was a notorious choker and for Murray to get permanently off such a list, he will have to win a few more.
For a long time, every Tennis fan wondered if Murray could ever do it. I am a big Murray fan and have watched his matches closely. When he lost his first Grand Slam final in straight sets at the 2008 US Open to The Greatest Player Ever Roger Federer, it was understandable. Two years later, when he again lost in straight sets at the Australian Open to Federer, it was also understandable.
But troubling signs began to show up. Like how he always played extremely passively on the biggest of stages and on the biggest of points. How his body language belied a man who genuinely knew he belonged at this stage and could win. Another straight sets loss at the Australian Open, this time to Novak Djokovic, was also not all that surprising, because you know, Djokovic was in the midst of one of the greatest seasons in tennis. Then he lost this year in four sets at Wimbledon to Federer, who kind of owns Wimbledon and played with a chip on his shoulder because he hadn't won a Grand Slam title in two years. We thought it was never going to happen for poor old Murray. He was not aggressive enough, he was too mentally fragile to cope with the big occasion, he was born in the wrong era and he was British and cursed! These were all the reasons given for him falling short.
But a few weeks later he seemed to find something inside him. Some"mongrel", some killer instinct, and most importantly, some confidence. Confidence that he belonged on this stage and that he could win against these players.Watching him win the gold medal so emphatically at the Olympics against Federer, you couldn't help but wonder if this new feeling could carry him to an unprecedented place.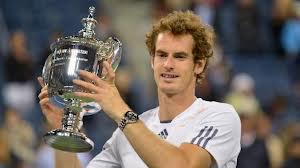 The Great Scot!It did. Spectacularly! Somehow Murray mustered all the guts, energy, passion, and confidence to beat Djokovic in an epic five setter. It would have been very easy for him to recede back into his passive shell after losing a two set lead. But he bounced back immediately and broke Djokovic at the start of the fifth set. The confidence was back. The swagger and passion were high, and you just knew, Murray was not letting this one slip.
I think Murray has more Grand Slams left in him. He has now put his name among the greatest players in the game. Comparing tennis players is tricky and I am not going to bother. For instance, is Gustavo Kuerten, who won three French Opens but never did better than a Quarter Final elsewhere, really better than Murray? Doesn't the fact that Murray is a better all court player, been to five different Grand Slam finals count for something? Murray is also undeniably playing in the greatest era of Men's tennis. Federer, Djokovic and Rafael Nadal are legends. Juan Martin Del Potro, Jo-Wilfred Tsonga, Thomas Berdych and David Ferrer could easily be Grand Slam champions. Murray came through, and rose above them all to triumph.
I will always remember Murray as one of the best players I have seen. Someone who after years and years of hurt finally came through in the most difficult era of tennis. They say winning the first is the hardest, so maybe now he will start to play with a little more freedom and charisma. We can sit and wonder how many more titles he can win, but that can wait. For now let us just enjoy and celebrate a brilliant player.Come on Andy!!