Have you ever seen anyone playing with a powerful  Tesla coil before? Well, then you are about to witness not just one, but two awesome guys playing with two powerful Tesla coils,  fighting each other on a stage with dangerous lightning bolts. It's all on video. Check it out after the break.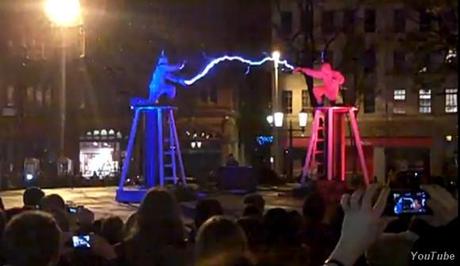 This unbelievably cool Tesla battle was performed in Belfast, Ireland. With the help of two special costumes, these two dudes put up an awesome perfomance that amazes the crowd by fighting each other with these high-voltage currents. I have seen these kind of stuff on movies and video games. But this is the first time I've ever seen where two real people are just playing with Tesla coils.
You may laugh at their costumes  but wait till these two guys get on stage. Check it out on video.
[Source: YouTube]
(All the images, trademarks, logo's shown on this post are the property of their respective owners)
Roshan Jerad Perera