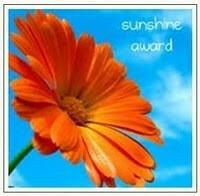 The Sunshine Award was awarded to me by the lovely Mandy from Make Me Up.
The Sunshine Award is an award given by bloggers to other bloggers. The recipients of the Sunshine Award are: "Bloggers who positively and creatively inspire others in the blogsphere".

The way the award works is this: Thank the person who gave you the award and link back to them. Answer questions about yourself. Select 10 of your favorite bloggers, link their blogs to your post and let them know they have been awarded the Sunshine Award!
 
1. Favourite Time of The Year?
Winter. I love winter and wet cold weather. You'll never hear me complaining about it being too cold or wet. 
2. Favourite Festive Movie?
I don't have one. 
3. What Is Your Passion?
What a question! I'm passionate about a lot of things. Life, love, family, make-up.
4. Favourite Colour?
Blue.
5. Favourite Time Of The Day?
When bub is sleeping and the house is quiet and when he wakes up from his nap and gives me a huge grin. I really need to stop calling him bub because he's not a baby anymore. 
6. Favourite Flower?
Roses and gerberas.
7. Favourite Non-Alcoholic Beverage?
Boring, but water. I don't drink cool drink and rarely drink juice. I do like Chai latte's, however my favorite drink is water. 
8. Favourite Physical Activity?
Walking, dancing and martial arts. 
9. Favourite Vacation?
I don't have one. I've been to some beautiful places but I can't say any of them have been favourites. Having said that, I always love going to Margaret River, it's so beautiful down there.