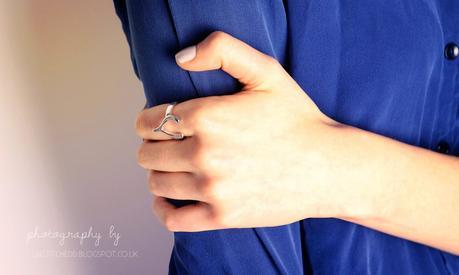 When I first heard about the Sunday Collection I knew I had to have it, and within a couple of hours, it was winging its way across the Atlantic to me. 
The idea is that you pay a discounted price and then able to get a couple of items that all go together, and I have to say that I think it is a really great initiative. They Sunday collection, which I chose, comes with a shirt, ring and bangle, and everything was so lovely that I felt that I had to share it with you! The shirt, made with silk, is amazing quality and a perfect basic to add to your wardrobe. So comfortable and soft, it is perfect for lazy days where you still want to make a little bit of an effort, but could easily be dressed up with a skater skirt and boots if you were after a more dressy look. 
The collection also comes with a ring (pictured) and bangle, which are in cute little wishbone shapes and are white gold plated, so again, amazing quality for the price that you pay. I'm not sure how much wear I will be getting out of the bangle as I have quite small wrists so it doesn't fit very well, but I'm absolutely in love with the ring and I haven't taken it off since I got it! Perfect for stacking with others, or wearing on its own, I can already see it becoming a firm favorite in my collection. 
I think this collection would suit anyone, and I'd definitely recommend taking a quick peek at the others if this one doesn't quite catch your fancy! 
What do you think of this?