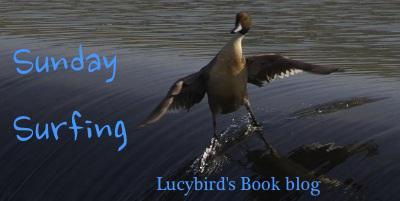 Sunday Surfing is my weekly feature (inspired by Chrisbookarama's Friday Bookish Buzz, which is one of my favorite features) where I share my favorite links from during the week, about books and blogging. Plus a little about what's happened on the blog this week.
Let's get started.
Around the web this week
Shirley Hughes Has Won the Booktrust's Lifetime Achievement Award
"The Girl on the Train' Has Broken Book Sales Records
Childhood Books Explained as an Adult
Book Lover's on Instagram and In Real Life
Is this the Real Reason People Buy Kindles? For me, no.
Bad Love Advice From Literature
The Advertisers of the New 'Girl With The Dragon Tattoo' Book Are Allowing One 'Lucky' Fan to Advertise the Book on Their Skin
Read the First Chapter of Harper Lee's 'Go Set a Watchman'
Or listen to it…
And on the blog this week…
And 'The Thirteenth Tale'
I Looked at Kindle Deals this Month
And I Talked About my Reading Habits