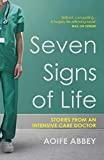 Synopsis
'Seven Signs of Life' is the memoir of an intensive care doctor. Aoife Abbey is the former BMC @TheSecretDr and this book has also been sold under the name 'The Secret Doctor'
Review
I've read a lot of medical memoirs, but this one is different. There is medicine in there, but it's not the main focus of the book. The main focus is on the emotions that come from working with people who are seriously ill.
Each chapter is named after a different emotion, and includes stories which illustrate that emotion. She talks about the good and bad of working in intensive care.
When medical procedures are included they are described in a way which is easy to understand, and different health conditions are described in footnotes.
Abbey is clearly a reader and I appreciated her frequent references to books. Each chapter started with a quote, and there were mentions of books throughout
There was a lot of discussion of the language used around health and how it can be helpful, or not which really got me thinking.
This would probably be an ideal book for people wanting to dip their fingers into medical memoirs, it's not generally very graphic, it's fairly short, and easy to read.
It wasn't really what I expected, but I enjoyed it all the same
9/9
Score:




/





Originally tweeted by Lucybird (@lucybirdbooks) on 30/07/2020.
Buy it:
Kindle (£4.99)
Paperback (£6.99)