Yesterday I planned on going out with my flatmates to walk around the city because Sunday in Bologna is definitely the best day of the week. Musicians are playing on the streets while artists are doing their routine. Vintage markets are popping out on every street and in the center of the town no car is allowed to drive so you can walk wherever you want.
Hence my advice to everyone to come on a Sunday at Bologna.
I love Bologna, really, but not when I decide to go out and then suddenly a big storm starts raging with rain pouring like it was the end of the time. 
Yesterday was exactly this kind of day so I ended up not being able to shoot an outfit for today but instead used Instagram rapidly. So here is a blurry shoot of my Sunday outfit. Oh, by the way  if you are on Instagram you can find me @shugaveryofincognito.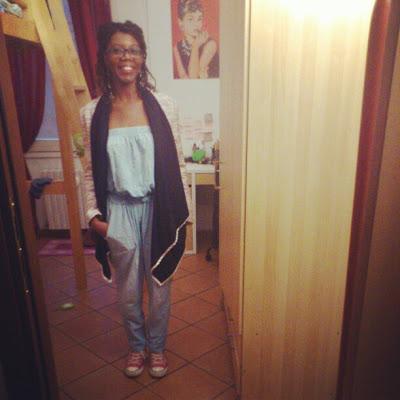 These days I really don't feel like dressing up so I always end up wearing these dungarees because it is easy slipping into them. So let's say that these clothes are my uniform when I want to feel comfy and I am lazy.
What are the clothes you enjoy wearing the most when you don't feel like dressing up ? How is Sunday in your town ?