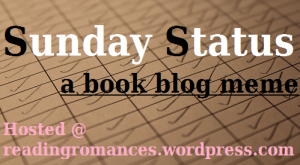 This is a new meme I created for us, book bloggers, to keep track of our blog status and our readers updated with what's going on!  We can support each other andget new contacts! It's also a great ways for our readers to get to know new blogs.
Rules:
• You should have content related to bookish things, including, but not limited to book reviews! It's a book blogger meme afterall!
• This event will take place  every Sunday, you can  participate every week, every couple of weeks or once a month!   It's up to you ; ]
• You can answer as many topics as you wish! I'll use random.org to pick a blog to feature every week!
•  (Required) Follow this blog!
•  (Optional) Follow our Featured Blog of the week!
• Please grab the  button to spread the word!
•  Put your Blog name & URL in the Linky thing (below). Please do not link up your giveaways, twitter, facebook or other posts that do not include the meme (these will be deleted).
•  Visit visit at least 2 other blogs in the Linky List!  Check out the other posts and content, make a new contacts! If you start following a blog , commentand say hi (the blogger might not know you are a new follower if you don't say "Hi, I'm a new follower!"). Don't randomly follow someone if you don't intend on actually following them! Don't spam.
Books:
Reviewed:
Reading to be reviewed:
Upcoming reviews: Check my next reviews page for the next books I'll be reviewing!
Blog:
Also on the blog this week:
Time spent blogging:
Number of posts:
Number of comments:
Number of new followers:


And since you're here, do you know about this amazing event?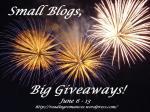 Sign up to host the big giveaway! (Click here)