If you are my Cardiologist... look away, DO NOT read further.
If you are my daughter... I hate enough for us both. And, if you are my oldest Son... you should have answered your phone because I was going to invite you out for breakfast.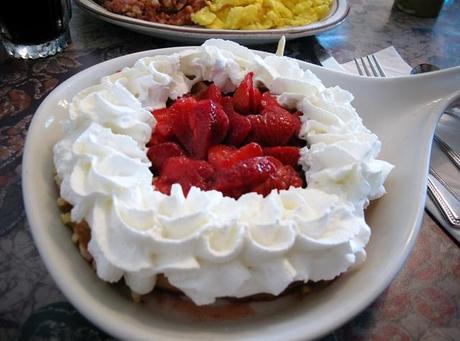 If Belgian waffles with whipped butter, strawberries, whipped cream and plenty of syrup are on the Sunday breakfast/brunch menu, it can only mean one thing: FOOD PORN!
This plate-sized waffle was delightfully crisp as only that deep Belgian waffle pattern can make it. The top was loaded with whipped butter, strawberries and smothered with mounds of whipped cream ... just waiting for syrup to be added. I smiled when it was served. I could tell right off I was going to enjoy the decadent dessert-like creation for breakfast.
I also opted for a side plate of scrambled eggs and hashbrowns... Yum Yum!
Today, my belly rules my mind!