For there are three
that bear record in Heaven,
the Father, the Word, and the Holy Ghost;
and these three are one.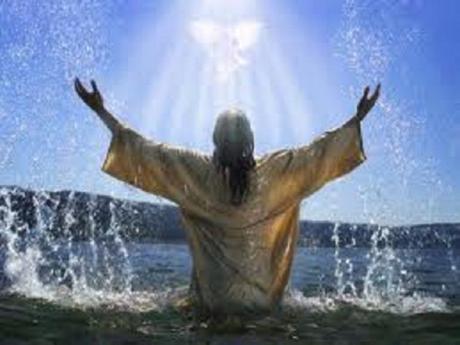 Today is the feast day of the Solemnity of the Most Holy Trinity.
How can three separate persons be one? Through the centuries, our brightest and giftest theologians were unable to plumb the mystery of the Triune Godhead, that -
There is but one God ("And God said", not "And the Gods said")
With three separate persons: the Father, the Son, and the Holy Spirit ("For there are three")
Who made man in their image
But the three persons nevertheless are one ("and the three are one").
Here's St. Thomas Aquinas on the mystery of the Triune Godhead, in Summa Theologica:
" We cannot come to the knowledge of the Trinity by reason alone, that is, by the natural and unaided efforts of the human mind. By our natural reason, we can know that God exists; that he is the First Cause of all; that he is one, infinite, simple, immutable, etc. But that the one God subsists in three really distinct Persons is a truth that can be known only by supernatural means. That is a truth beyond the reach of human reason to know, to prove, or to disprove. We know this truth by divine revelation, and accept it by supernatural faith; we take it upon the authority of God himself. [...] By aid of the light of glory the soul in heaven sees God himself clearly and truly."
And so we accept and we trust.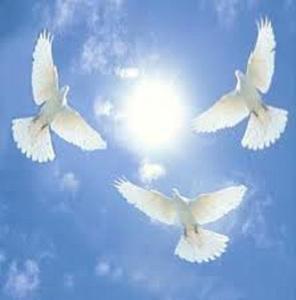 Before He took final leave of His disciples and ascended into Heaven, Jesus said something most intriguing:
"I have much more to tell you,
but you cannot bear it now.
But when he comes,
the Spirit of truth,
he will guide you to all truth." (John 16:12)
I believe and put my trust in what St. Paul said in 1 Corinthians 13:12:
"For now we see in a mirror dimly,
but then face to face.
Now I know in part;
then I shall understand fully,
even as I have been fully understood."
And so, let us rejoice!
Let us "mend our ways, encourage one another, agree with one another, live in peace" and "Greet one another with a holy kiss." (2 Corinthians:11-12)
And may the love of God the Father, the peace of our Lord Jesus Christ, and and the fellowship of the Holy Spirit be with you on this magnificent Sunday!
This entry was posted in Bible, Christians/Christianity, God, God's creation, Inspirational, Saints and tagged For now we see in a mirror dimly, Genesis 1:26, Holy Trinity, I have much more to tell you, John 16:12, John 5:7, St. Thomas Aquinas, Thomas Aquinas on the Trinity, Triune Godhead. Bookmark the permalink.