For the third year in a row, Stuart and Jenna Walker were up on the Boots & Hearts stage doing their thing in front of the crowd. But this year was different.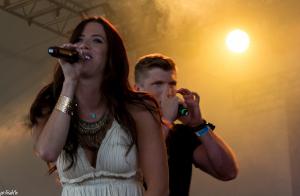 In 2013
The Reklaws
won the Emerging Artist Showcase and in 2014 they returned to play for the crowd… but in 2015 they really showed us what they had, and did it in front of the biggest B&H audience they'd ever had.
The Republic Live team announced that there were 32,000 in the park on Thursday night, and many of those fans made their way to the Front Porch stage for the start of, and during, the set that started the Coors Banquet Kick Off Party – we talked to Jenna and Stuart later in the weekend and they told us that they would have played to 6 people if that's who was out there, but it was pretty cool to play to significantly more than that.
The brother and sister duo also told us that they knew their job was to get people pumped up for the acts that were headlining the night – and they didn't disappoint. Opening with their current single Sun Drunk was a surprising decision, but one that worked in showing who in the crowd has been listening to country radio and has heard the band's newest offering.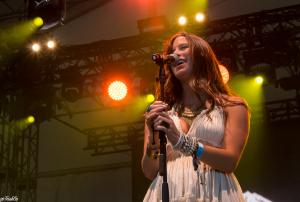 Capitalizing on the crowd's natural energy was key for the young singers, and as their set continued with a string of higher tempo numbers, they did just that. Covers in the set included
Boondocks
(Little Big Town),
4 5 Seconds
(Rihanna, Kanye West, Paul McCartney), and
The South
(The Cadillac Three), and they all earned cheers and prompted loud singing from the accumulated mass of country music lovers.
Note: The duo closed their set with an original song dedicated to the festival and aptly called Boots and Hearts. It was a nice touch, got the fans into the action and finished their time on a nice high.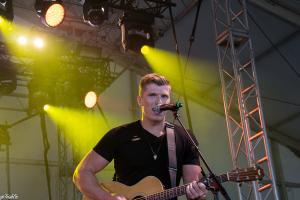 While we were sitting down Friday we also asked about new music and an album and when we can expect that to happen… The Reklaws told us that they have lots of music written and ready, but they don't want to rush things. They're actively looking for the right team to put their record together and when that comes together we'll get a better answer.
Jenna and Stuart also took care of hosting duties Friday on the Main Stage and Sunday during the Emerging Artist Showcase on the Front Porch Stage showing us that they are becoming more and more comfortable not only putting on their show, but entertaining crowds however they need to, whenever they get the opportunity.
When we asked them if they'd be back if they were asked they were 100% into the idea… maybe we'll be seeing them again in 2016.
Check out the set list, more pics and stay tuned for more coming soon…
The Reklaws Boots & Hearts Set List
☼ Sun Drunk
☼ Boondocks
☼ Small Town Simple
☼ Seeing Stars
☼ Breaking Things
☼ 4 5 Seconds
☼ Rolling Slow
☼ The South
☼ Boots and Hearts
Work Hard. Play Harder. Be Awesome!