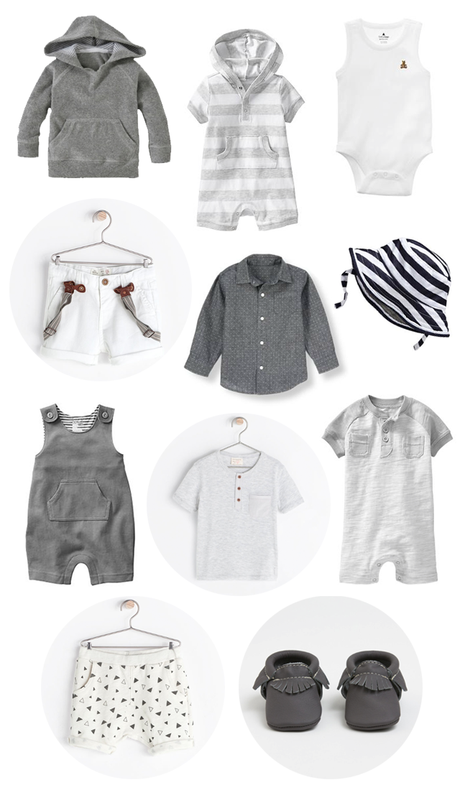 Burts Bees Hoodie. Old Navy hooded romper. Baby Gap tank bodysuit. Zara shorts with suspenders. Janie and Jack button up shirt. Old Navy sun hat.  Baby Gap knit overalls. Zara tee. Old Navy henley romper. Zara triangle shorts. Freshly Picked moccasins. Baby Bee sunscreen stick.
A few weeks ago I made a roundup of warm weather staples for a toddler boy, so naturally I needed to follow up with summer wardrobe staples for a baby boy.
Rompers. They are one piece and good for the heat, and who doesn't love the rolls they expose? Nom.
Overalls. These are also great for warm weather and look especially darling without a shirt underneath.
Tank bodysuits. Easy to pair with shorts or pants.
Tees. Cute with shorts for a casual look.
Button up shirt. Wonderful to wear to church and to special events.
Dress shorts. Also for church and special events.
Sun hat. This is an obvious staple for little ones. Gotta' keep that babe out of the sun!
Hoodie. A lightweight jacket is perfect for the cool breezes in the evening.
Baby moccasins. Probably the cutest footwear for a baby, and they work well for when they aren't walking since they don't need tons of support or protection on those little tootsies.
Sunscreen. Don't ever go out without lathering your little guy in it!
With Wes being my second child, I've found that I dress him much more simply. The main color I gravitate toward for him is gray. He looks fantastically adorable in it, and I don't have to think about what to pair it with because it goes with anything and everything. (Hence the all gray mood board.)
A baby boy wardrobe for summer doesn't need to be over the top with these few key pieces. The simpler the better, in my opinion. Hope you are inspired by these easy, stylish and affordable pieces and that the sun is already shining where you are!