It was exactly one year ago today that I posted my End of Year Report for 2014. It was also one year ago today that I shared that my fourth year as a Professional School Counselor was the hardest of my short career thus far. Well, I think my fifth year was in competition for that title. And, it may have won. The jury's still out.
The added challenge for me this year was that I left a school I adored in April to join a vastly different one. I was expecting a challenge, but joining a new school mid-year is not for the faint of heart! I knew within the first week at my new school that it wasn't a good fit, but I had to finish what I started.
And I did. I officially finished there today, and while I will miss certain things about it, I am so glad it's over. Now I'm free to focus on finding my "just right" school again.
Before I walked away, though, I spent some time looking at my data from my short April-June stretch to complete a report for the year 2015. It's a basic look at the raw numbers of what I did in the three months I was there. Click on the picture for a PDF version.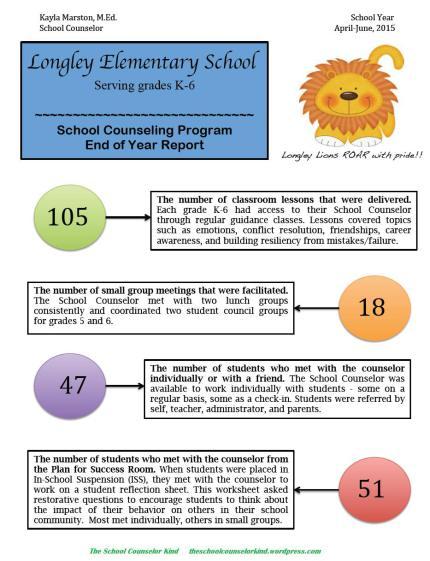 I've come to really enjoy putting together an EOY Report. It keeps me accountable and allows me to feel good about what I accomplished.
Now, onto my summer. 8-)