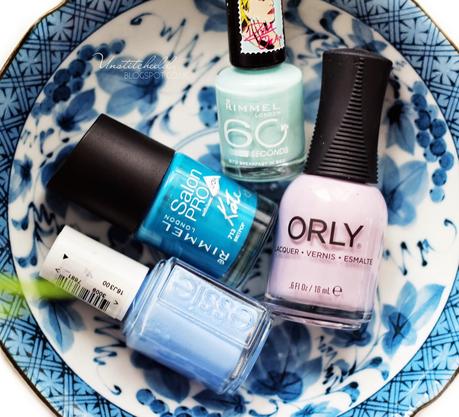 As the weather starts getting warmer, and it becomes more of a necessity to wear sandals so that your feet don't boil off, it also becomes time to actually give your toes some extra lovin' after they were so neglected over the winter. After a good pamper: a soak and a really moisturising cream like Lush's Foot Cream which smells like peppermints - mmmmm -  has sorted them out and got them almost back to acceptable standards, it's time to give those toenails a lick of paint. 
I've really been loving cool and pastel-y tones for toes recently. Orly's Flawless Flush is a perfect example. A soft pretty lilac with a hint of shimmer it works perfectly on the toes and the super long lasting formula makes it perfect for lazy girls like me. Another absolute favorite of mine is Rimmel's Breakfast in Bed, from the Rita Ora line. It is a pretty baby blue with quite a lot of white in it that I love to match with my fingers too. I hope this makes it to part of the permanent collection, because I have already applied this so many times that I think my bottle will be finished pretty soon! Another love from rimmel is one from their Salon Pro line in the shade BritPop - a gorgeous aquamarine blue, this looks amazing with a tan and sticks around forever. And finally, how could I make a post about nails and not include a single Essie shade. Bikini so Teeny is the ultimate summer shade - a pretty cornflower blue with subtle shimmer running through it - a definite must have. 
So those are my picks for Pedicures this summer, although they would all work just as well on the hands too, maybe even get a little match-matchy if your feeling it. What are your favourites for summer?