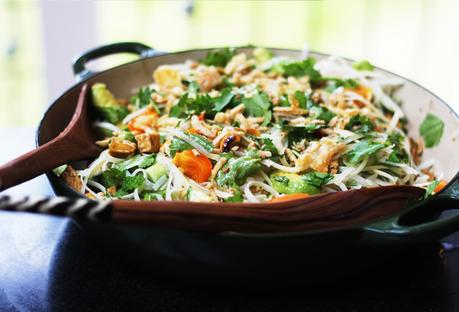 When summer hits, there's no meal that I love more than bowls of noodles loaded with a rainbow of vegetables, and fresh, fragrant herbs balanced with the tang of a chilli and sweet garlic lime sauce. Typical England not letting me enjoy food in the right weather though. I've 'veganised' this version (all apart from the fish sauce which I am yet to find an alternative for - please let me know if you have some), but for those of you that can't do without the meat, you could easily substitute in some chicken or prawns as your protein. Unless you're the fussiest of eaters, I can't see who couldn't like this...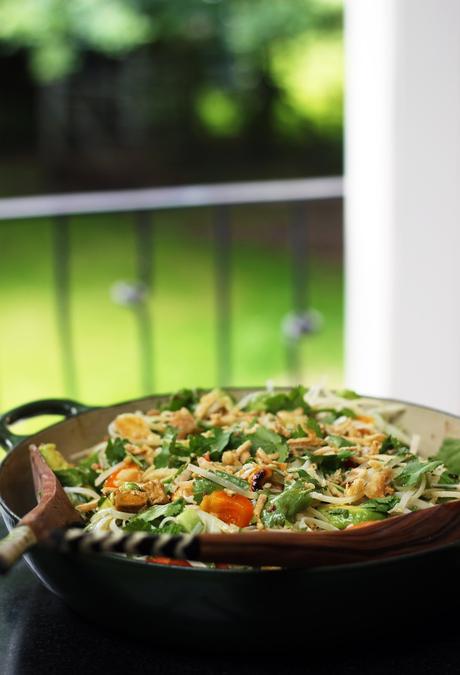 For the Sweet Garlic Lime Sauce: 
3 cloves garlic squeezed 2 tablespoons rice vinegar ¼ cup agave or brown sugar ¼ cup fish sauce ⅓ cup lime juice ⅓ cup vegetable oil 
For the Bowls: 
Rice Noodles Basil, Mint, and CorianderChillies Chopped Peanuts/CashewsAvocadoVeggies --> like carrots, bell peppers, and cucumbers Protein --> like shrimp, tofu, chicken (optionalOnion crispies 

Prep the sauce by mixing it all together

Cook the noodles by soaking in boiling water for about 30 minutes, careful not to overcook them because they can get really sticky Finely chop the herbs, peel and julienne the vegetables and mix into the drained noodles Toss the noodles and veg with the sauce, sprinkle over some onions and enjoy!