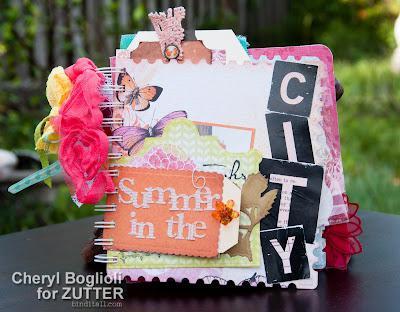 Here is what is in my studio today; a fun mini album that was recently shared on the
Bind-It-All
blog.It is summer, and being from Florida, most expect beach themes from me. Unfortunately, I am not a beach girl. I burn in minutes and I hate sand.  Give me trees and mountains any day.I just returned home from CHA and I'll have a few things to share soon.  This time I worked quite a bit and didn't get to take to many pictures.  Unlike last year's Summer CHA experience.The day before CHA started last summer, I went into go into Chicago and experience THE CITY!  And it was so very hot (as it was again this year), but it was exhilarating for me – the
sights, the sounds, the smells, the people!
Summer in the City I had so much fun listening to this song and building my own mini album using Spellbinder dies designed by Donna Salazar.  I used Creative Book Pages One and Two as well as a few butterflies from her Wonderful Wings Grand Nestabilities collection.  Hit play and you can listen along with me.  I bought the song to enjoy when I want now.I created this mixed media album using chipboard for the back page to give my book stability as well as a variety of papers, tags, time card, plastic baggy, envelopes, and a piece of raw canvas.Before I show you the entire album, I thought I'd share some of the creation process.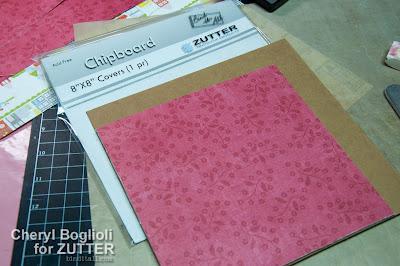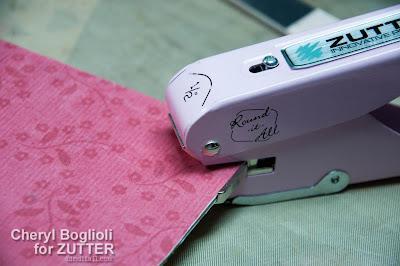 I used Zutter Chipboard cover for the back page of my album.  This provided structure and stability for my mixed album.  However, 8×8 was larger than I wanted, so I used my Zutter Kutter to cut down the board to 7 x 7 and then I rounded two outer corners with the Zutter Corner Rounder.  This Zutter Corner Rounder is great for heavy chipboard and clipboard wood.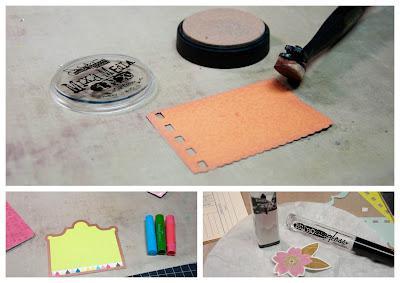 I inked edges and embossed a few embellishments using various products from ClearSnap.  I also colored and shaded with some with
Faber-Castell
Gelatos, even while using the die as a stencil.I had so much fun putting this album together.   It is bright and happy and very summery to me.Want to peek inside my album?  Click on pics for a closer view.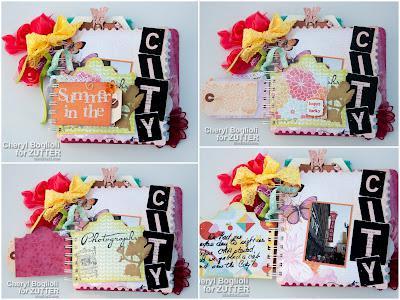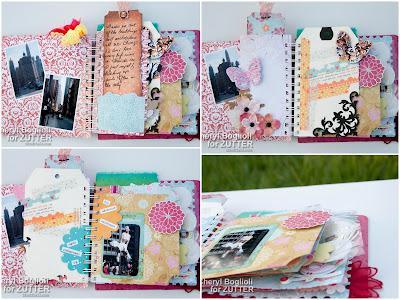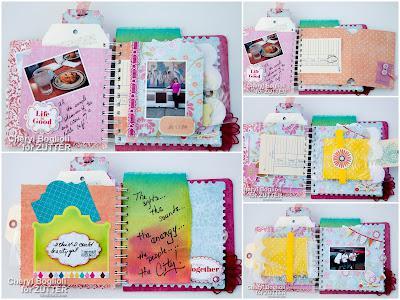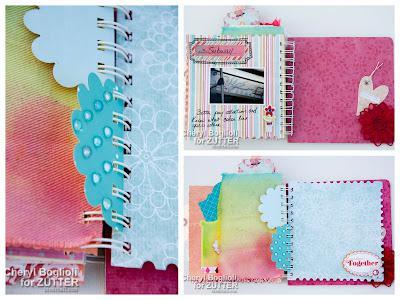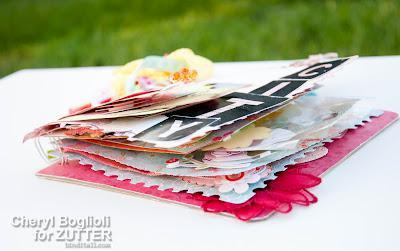 Just look at all that layered yumminess.  What are your plans for this summer?  Will you make a summer album?  Make sure to share on the
BIA Facebook
page if so.  We love seeing your creations using Zutter products.