Winter 2010-11 is almost officially over and we know that it's been a lean snow year in Europe. Whilst the snow didn't come in bucketloads this season, the majority of holidaymakers we spoke to have had great ski holidays - pistes were very well maintained, sub zero temperatures in January allowed snow cannons to be on at full blast, and late falls of snow higher up provided some nice spring skiing conditions.
Now as the last of the snow disappears, the resorts have the opportunity to get ready for summer. We asked our Chalets Direct members to tell us what kind of holidays they operated over the summer months, and we were amazed at the choice and variety of options that came back! Everything from wine-tasting to triathlon training weeks, from yoga retreats to climbing Mont Blanc, painting courses, cookery classes, cycling tours, white water rafting - it's all available. So if you fancy doing something different this summer and seeing the spectacular mountain scenery in all its dazzling summer beauty, then try the Alps and Pyrenees. Here's a selection of just some of the things you can do.

Push Yourself to the Limit
The mountains provide lots of opportunities to get fit, stay fit and increase your fitness levels. National football and rugby teams will usually head to the hills a few weeks prior to important competitions to train at higher altitudes where the body works harder than at sea level. So why not follow their lead.
Triathlon training: Chalet 365, run by Chris and Allie Hodgson, offer triathlon training camps and holidays in Samoens in the beautiful Giffre valley, just an hour from Geneva.
Chris tells us: "I am a keen novice Triathlete myself and we provide training guidance as well as offering access to qualified training specialists in disciplines such as swimming. For a Triathlon Training holiday in the French Alps it is rare to find such a great mix of Triathlon training terrain in such a close environment."
The chalet has both a 25m pool and a 400m open water lake close by. Cycling routes include many of the Tour de France cols, as well as flat valley roads. Running trails can provide good hill training and flat road, river or park trails - all within 5 minutes of the chalet. The training camps include structured training, technical coaching and advice on areas such as training schedules, race plans and dietary intake. Depending on the time of year you book, you could even do a triathlon whilst on "holiday" -  with one of Europe's most spectacular triathlons taking place in the area at the end of August. More details of what's available can be found on their website.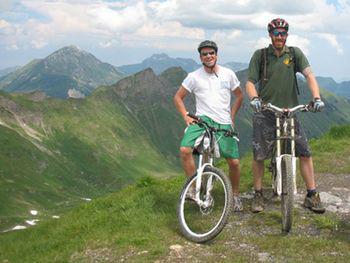 Mountain Biking: Mountain biking is of course an obvious choice of activity when in the mountains. Resorts will open up the lifts for bikers over the summer, and trails are graded according to difficulty - in the same way that ski pistes are graded. The Portes du Soleil and the Chamonix area have long been considered mountain bike meccas - so there is great choice of holidays available.
Mountain Base in Chamonix offer guided mountain bike holidays with qualified guides and vehicle support - come for a week or a long weekend. If you're experienced and want to strike out on your own, PRG MTB provide a great base in Morzine with all the facilities you require. Run by Rob and Zeb, (PRGSKi in the winter), keen mountain bikers themselves, they can also give you all the pointers you'll need.
Road Biking: Road biking has been a popular sport in the mountains for years - with quiet roads, glorious scenery and fresh mountain air what could be more inspiring? This year Bluebird Days, based in the picturesque village of Nancroix in the Tarentaise, are offering summer cycling tours.
Jane, owner of Chalet Myrtille - the base for the tours, explains: "Following a very successful 10 days last year with a group of Australian road cyclists we are offering tailor made holidays this year from June to September for groups of 6 to 8 people. Basically we plan a holiday based on a wish list of routes to cycle, providing a back up vehicle and a real 'French' experience of a combination of cycling, food and sightseeing." It's a great opportunity for cyclists to test themselves on some of the most famous mountain roads in the world - such as the 21 hairpins leading up to Alpe d'Huez and the Col de la Madeleine - regular stages of the Tour de France. So you choose your routes and they deal with all the praticalities.
Breathe Bike, in Chamonix, run supported cycling holidays for keen cyclists. The base for the holidays is the luxurious Chalet Annabelle - with hot tub to ease the pain at the end of a good day. As keen cyclists themselves, who "live, eat and breathe bikes", Mike, one half of the powerhouse behind Breathe Bike is hoping to complete at least one of the major cycling competitions this summer - either the Etape or the Marmotte or both - and you can follow the ups and downs of his training on his blog, Etape 2011.
Breathe Bike can also arrange climbing holidays with fully qualified guides - aimed at getting you to the summit of Western Europe's highest peak - see here for more details.
Multi-Activity Breaks: Of course you don't need to limit your adrenaline rush to just one sport. That's the good thing about a mountain break - there's enough excitement available in lots of different environments - land, water and air.
Savoie Faire, based in Chatel, are offering special 4 day multi-activity breaks. The 4 day package includes 1 day mountain biking with bike hire included, a half day white water rafting, a day hike and another half day at the aerial adventure park. The package price also includes half board accommodation, and can be extended to a week. There's certainly no need to to rack your brains on how to entertain the kids on this break!
Watch Others Push Themselves to the Limit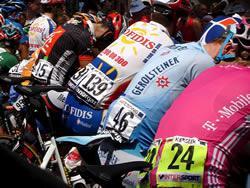 One of the biggest events over the summer in France is the Tour de France. Over a period of 3 weeks, world class athletes come to compete in one of the most challenging competitions in their sport.
If you're in an area where the Tour is passing through it's very hard not to get caught up in the atmosphere.Thousands of people descend on the host towns to see the start and finish of stages, and preparations and celebrations begin way in advance.
The Ecrins Lodge between Alpe d'Huez and Les Deux Alpes is in a great position to catch three of the latter stages this year - which could prove to be crucial in determining the victor. These are:
21st July Pinerolo > Col du Galibier
22nd July Modane Valfréjus > Alpe-d'Huez
23rd July Time Trial Grenoble
The Lodge is within cycling distance of all three areas - so why not join in the fun, and take in the atmosphere.
Or just Chillax
Mountain holidays don't have to be about white knuckle rides or training to the max. You can also take the time to relax, enjoy the surroundings or learn something new. 
Learn something new, improve your skills, collect your thoughts:
Over the summer Chalet La Savoyarde, situated in lovely Morzine, becomes the venue for Painting in the Alps. Run by artist Steve King, all artist materials are supplied and there are sessions both outdoors and in the studio. Tuition is friendly and informal and Steve can guide you through techniques, provide demonstrations and help you to cultivate your own skills.
Powder n Shine, located in the Belleville Valley, has an array of summer activities and courses available over the summer 2011 period. If you're hoping to do a winter season for example, you could get some great insights on their chalet host cookery course. The course is over 5 days and covers everything from recipes, keeping to budgets, cooking at altitude to how to maximise your time on the slopes! Essential advice for any aspiring chalet host and a good stepping stone to finding a job later. They also offer wine tasting trips in the Savoie and activity holidays.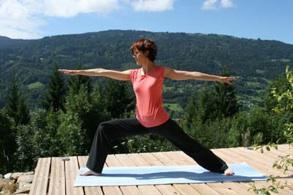 The Alps also provide the perfect backdrop for more gentle activities and are an ideal environment to work on both mind and body. Michelle Willmott of
Cosy Ski Chalets
and Inspired 4 Life is a qualified life coach, yoga and meditation leader and during the summer she runs a number of retreats and workshops in lovely chalets in the Haute Savoie. These breaks are "an opportunity for people to get away from the hustle and bustle of their hectic lives at home and recharge their batteries, relax in beautiful surroundings and achieve a real sense of renewal and rejuvenation" she tells us. Her retreats offer morning and evening classes in beautiful, relaxing surroundings and there is plenty of opportunity to explore and enjoy the magic of the local area.
So as the snow retreats the mountains become a perfect playground for a great choice of things to do - to find more ideas of summer holidays and special packages take a look at the Promotions on Chalets Direct - just search for the dates you're interested in and see what comes up. We've just scatched the surface here but there a golf courses, spectacular hiking trails, wonderful lakes, fabulous driving routes - amazing places to see and lots of things to enjoy!