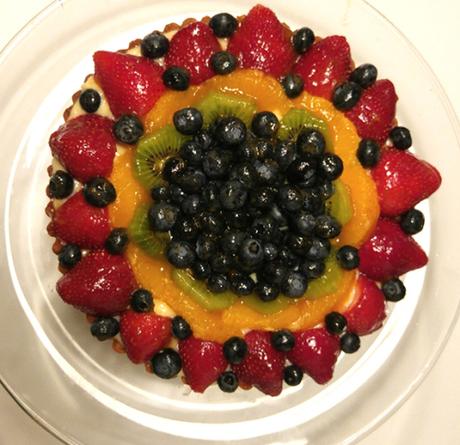 Summer is here in Brooklyn, and in expensive, delicious fresh fruit is in abundance (unlike when I lived in California where this is the norm!) My cousin visited us recently, and I made a Summer Fruit Tart for the occasion. They were impressed, but it is a pretty simple dessert to make. The key for me is to do it in steps over a couple of days. I made the dough on Thursday, the pastry cream on Friday, and baked and assembled the tart on Saturday right before our guests arrived.
I've made mini fruit tarts in the past, which are fun to do with kids.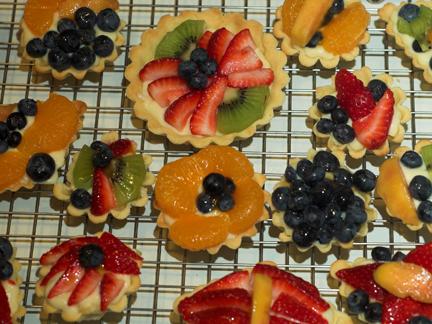 For this one, I just made one large crust and filled it with one batch of the pastry cream. For the fruit, I arranged cut strawberries, sliced oranges (I cut off the membranes), kiwi, and blueberries and glazed with thinned apricot jam. Below is the recipe I used with some adjustments.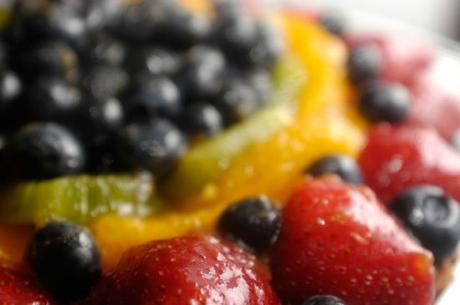 Pastry Cream (Adapted from Jacques Torres' Dessert Circus)
2 large eggs
2 large yolks
1/2 cup + 2 tablespoons sugar (4.5 oz.)
3 tablespoons flour (25 g)
2 tablespoons + 1 teaspoon cornstarch (25 g)
2 cups + 1 tablespoon milk
1/2 teaspoon vanilla extract
3 1/2 tablespoons butter
1.  Whisk eggs, yolks, sugar, flour, and cornstarch in a medium bowl until combined.  Make sure there are no lumps.
2.  Heat milk in a 2 quart heavy-bottomed saucepan over medium high heat.  Bring to a boil.
3.  Temper eggs.  Pour a little bit of the heated milk into the egg mixture while whisking constantly.  Then pour this mixture into the saucepan of milk.  Continuously whisk as it thickens.  After it comes to a boil, cook 2 minutes.  Remove from heat and stir in vanilla and butter.
4.  Transfer to a clean bowl and cover with saran wrap gently pressed on top of custard to prevent a skin from forming.  Refrigerate until ready to use.
Pate Sucre (Sweet Dough) (Adapted from Cook's Illustrated)
1 large egg yolk
1 tablespoon heavy cream
1/2 teaspoon vanilla extract
1 cup flour (6 oz.)
1/3 cup confectioners' sugar (1.5 oz)
1/4 teaspoon salt
6 tablespoons butter, chilled and cut into pieces
1.  Whisk together egg yolk, cream, and vanilla in a small bowl.  Set aside.  Pulse flour, sugar, and salt in the bowl of a food processor.  Scatter butter over the flour.  Pulse 15 times.  With machine running, add egg mixture through feed tube.  Process until dough comes together, about 25 seconds.  Shape into disk and wrap with saran.  Refrigerate at least 1 hour
2.  Let stand at room temperature until malleable.  Roll out about 1/4-inch thick.  Cut to fit tart pan.  Press in and prick bottoms with the tines of a fork.  Chill until ready to bake.
3.  Preheat oven to 375 degrees.  Fill tart with pie weights (or cover with a piece of aluminum foil sprayed with non-stick spray and fill with uncooked rice).  Bake about 15- 20 minutes.  Remove weights; bake 10-15 more minutes,  Watch closely – tarts should be golden — don't let them brown too much.  Let cool on baking rack.  Using a sharp knife, remove shell to rack to cool completely.
Assemble Tart:
Glaze
1/3 cup jelly (I used apricot jam)
2 teaspoons water
1.  Heat jelly and water together.  Whisk.  Add more water if necessary to get a consistency of thin honey which you can easily brush on fruit with a pastry brush. If your preserves are lumpy, pass through a strainer.
2.  Cut fruit into slices.  Wash and dry berries.
3.  Fill tart shells with pastry cream.  Make a design on top using fruit.  Brush on jelly glaze with a pastry brush.