New to little Indiana? Subscribe for free to my RSS feed. Thanks for stopping by!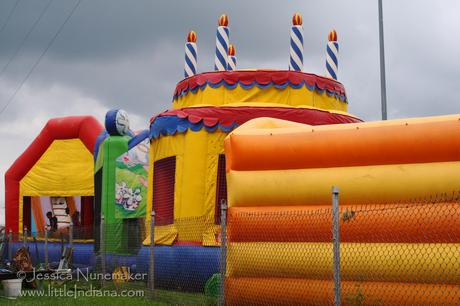 Bourbon, Indiana: Summer Fest
Bourbon, Indiana may be small but every year they have an annual event that draws in quite a crowd: Summer Fest.
Summer Fest: Bourbon, Indiana
What was once just a couple of guys meeting together to "talk shop" and show off their cars has turned into something pretty big and amazing!
Rows and rows of classic cars and souped up models take over! For the last 25 years, car enthusiasts have met up and put on a show.
Friendships have formed and people return year after year–after spreading the word and bringing along a friend of their own.
Summer Fest Things to Do
As small as this Indiana town is, little Indiana and hubby were cheered by the multiple food booths and activities for the kids. There were also pony rides, those jump things, and bounce houses. Yes, that's "houses" with an "s."
The bounce house? Well, it would have been a huge hit if the kids had been along. Instead of getting to go into one bounce house, it looked like paying the nominal fee let you in to all of them!
Kids could bounce to their hearts content! That totally says "small town" to me. I love it! Definitely enough to keep a kid busy for a bit.
Indiana Car Show
We Hoosiers sure do love our classic cars. The Summer Fest seriously had long row after long row of cars. There were all kinds of makes and models. For the most part, they were in awesome condition.
I was walking around taking pictures when the awards portion of the Car Show began.
Would you believe they even have trophies? A whole bunch of nice, shiny trophies!
See and Do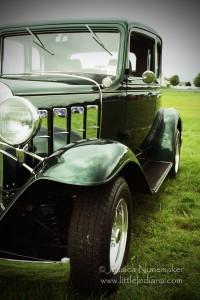 Bourbon, Indiana: Summer Fest Car Show
This was a great Indiana festival. I'm hoping to catch Summer Fest again in the future. This time, a softball tournament was taking place as well. The area was hopping!.
Dependent upon generous sponsors and word of mouth, I guess here's my part in helping spread the word about this long-running Indiana festival.
Go there–especially if you are a classic car owner. The guys and gals seemed like a tight knit group, even raising money for those they knew in need and remembering those who have passed.
I've got a lot of images on the way featuring Summer Fest! With so many incredible cars…well, you'll have to see it to believe it. Stay tuned!
See more Bourbon, Indiana images and other pictures in Indiana on my Flickr photostream.
Bourbon, Indiana in Marshall County
(near the softball fields)

View Larger Map
little Indiana: Where to Stay, Play, and Eat in Small Towns in Indiana. Discovering Indiana's best small towns! Now get little Indiana on your Kindle.
New! Offering affordable online advertising for your small Indiana business! little Indiana Businesses is the online presence that you've been looking for.