I realized I haven't posted monthly faves for March and April! So to make up for that I summarized my Summer Favorites instead!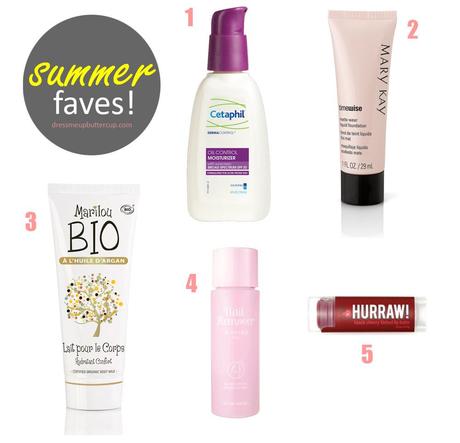 Cetaphil DermaControl Moisturizer SPF 30 - I tend to oil up more during summer so this oil-control moisturizer is a good addition to my summer skincare. Its' 3-in-1 formula helps control oil and shine, hydrates and provides broad spectrum UVA/UVB protection. The lightweight consistency is easily absorbed and I like the soft-matte finish. 
Mary Kay Timewise Matte-Wear Foundation - I swear to god I never come across a matte foundation that really holds true to its claim! Given that I'm really oily, I can attest that this product really works wonder in keeping my face matte for at least 5 hours (that's a considerable amount of time)! It has buildable coverage and is oil-free. Only downside is that this doesn't have SPF. 
Marilou Bio Body Milk with Argan Oil - We all know how our body can get really sticky and icky during summer, so we tend to skip applying lotion. But that wouldn't be a problem with this body milk from Marilou which is non-greasy. It also ensures soft skin and protection from aging since it's enriched with Argan Oil, Shea Butter, and Aloe Vera.
Etude House Nail Polish Remover - Summertime means applying nail polish of the hottest summer colors. That also means a good nail polish remover is a must. I like the one from Etude House because it doesn't turn my nail bed into white, dry mess. 
Hurraw Black Cherry Tinted Lip Balm - When I'm at the beach, I usually switch from lipstick to lip balm for more moisture and shine on my lips. My go-to lip balm for summer is the one from Hurraw which is made from premium organic, vegan and raw ingredients. Which translates to hello healthy and kissable lips! 
That wraps up my summer beauty faves! Looks like I like to keep it matte, oil-free and shine-free this summer! How about you? What's your major concern this summer that you'd like to address in choosing a beauty product? Share your summer faves as well!