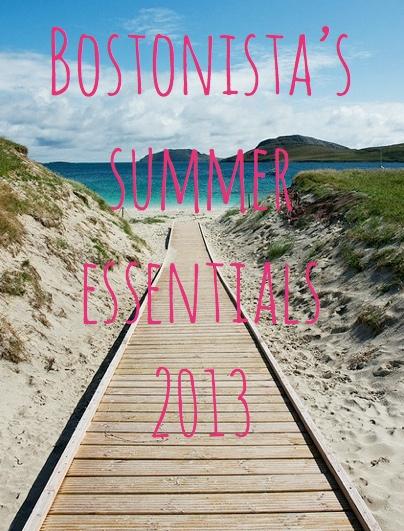 Okay, I know that today happens to be rainy and kinda cold here in Boston but it is June! We've had a few hot days and hopefully we'll be having a whole lot more! (And, yes, I know that technically it's still spring. But my motto is once you've hit Memorial Day you've hit summer time!)
But all this rain has me thinking about my essential pieces and products so far this summer. Probably because I'm annoyed that I'm trapped inside instead of out using them!
Lets start with what I've been absolutely living in so far...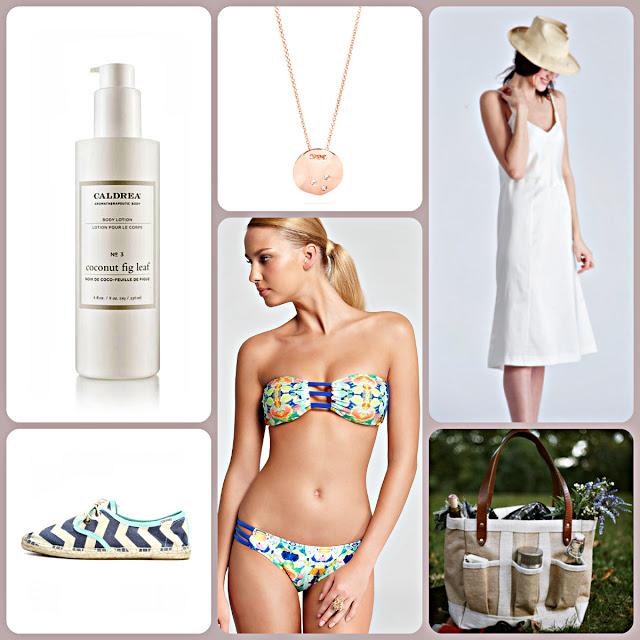 Caldrea Coconut Fig Leaf Lotion: Ever since I received a sample of this from BirchBox I've been completely obsessed. I went and bought a big bottle and have been slapping it on morning and night! The coconut reminds you of sunshine, not sunscreen, and the fig helps to balance it out. It's warm and sexy without being overwhelming. Plus, my skin is even more baby soft than usual!
Gorjana Chloe Shimmer Charm Necklace: I'd had my eye on this delicate rose gold necklace for quite some time so when I saw it on sale at Gilt I jumped for it! I originally thought I'd just wear it for an upcoming wedding but I love the color against my skin and that it hangs at just the right spot on my chest. It's even replaced my old silver Tiffany bean standard! 
Horses Atelier Ivory Sundress: This month's issue of Vogue featured a blurb on Toronto's Horses Atelier and I've fallen in love with their simple aesthetic. Their silk sundresses, with clean lines, french seams and elastic waists, are what my casually elegant dreams are made of. Considering the craftsmanship, materials, and Made in Canada construction, Horses Atelier has a very reasonable price point (the sundresses clock in at $320) AND the designers donate a portion of every online sale to the Clean Clothes Campaign. I'm definitely saving up for a dress or three. 
Apolis & Kinfolk Garden Bag: I missed out on Warby Parker Boston's blogger brunch a few weeks back but they were sweet enough to set aside a gift for me which happened to be this Apolis & Kinfolk Garden Bag. These bags are handcrafted in Bangladesh by a women's artisan co-op providing a sustainable and fair income for the women and their families. At first, I wasn't sure if I'd carry it much but the neutral weaves actually go with everything and its lightweight. Plus, the leather straps are strong enough to hold everything from my laptop and iPad to all of my everyday odds and ends. I've gotten a lot of compliments on it and it's nice to be able to point people to a brand that's making a difference.
Milly Lanai Bandeau Bikini: I was in desperate need of a new bikini this summer. I'd seen Milly's Lanai bandeau in Lucky Magazine and while I loved the hot pink color I wasn't so sure that a bandeau would work on my body. Happily, a salesgirl convinced me to try one on and I ended up wearing it every day on the beach in Florida back in April. I still can't believe how comfortable and flattering bandeaus are for the beach! I thought I'd be pulling it up constantly and self conscious but it was probably the best I'd felt in a bathing suit in a long time. I'm in the market for another one and while the hot pink seems to be sold out, I'm crazy about this blue and green print. If you haven't yet, I dare you to try on a bandeau. I think you'll be pleasantly surprised!
Soludo's Chevy Chevs: Back in April, Soludo's offered bloggers pairs of their classic espadrilles just in time for all the music festivals. I grabbed a pair of green and black ones, and I'm pretty sure I've worn them nearly every day. I even wore them through a particularly miserable and raining 9 hours at The Magic Kingdom. (I'm not joking. That night the weatherman said that Orlando broke a rain record for a single day that was 90 years old.) They are comfortable, cute, and classic even when soaked or filled with sand. I'm buying the Chevy Chevs style this weekend because, like literally every one else, I'm obsessed with chevron, and I know they hold their own against the elements! 
So now you know my hot day uniform: bikini, sun dress, and flat espadrilles.  See? I'm basically a low-maintenance kind of girl....
Sometimes.