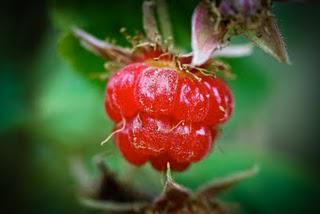 This article appears in the July 2011 issue of Magic City Magazine. Since the magazine is not currently online, I wanted to share the info with you here ... along with a couple of gorgeous photos by my daughter, Rebecca Bredehoft.

For Montana locavores, the wild summer berries of our beloved mountains are the crown jewels of local foods.With their brilliant colors, intense sweetness, and nutrient richness, Montana berries have all the benefits of those exotic super fruits from faraway jungles (without the excessive carbon footprint necessary to transport them here!).
And then, there is the joy of berry picking. Buying berries in a supermarket pales in comparison to the delights of a sunny afternoon in a wild berry patch. Since they were old enough to walk, I have hunted wild berries with our children on the trails and hillsides around East Rosebud Lake. I will always treasure those hours of talking and eating – and, with any luck, taking a few back to top a bowl of ice cream.
I must admit that my personal favorite among the berries of Montana are the Wild Red Raspberries. After the 1996 fire at East Rosebud Lake, the raspberries flourished in the newly burnt areas. Their rapid re-growth and brightly colored berries were a reassuring sign that the hillsides would return to their previous glory. They have – and we have had some spectacular raspberry years, sometimes with enough berries to make a pie or cobbler after feeding our faces along the trail.
Like all the berries in this article, wild raspberries were extensively used by Native American tribes, as a medicine, food, and ingredient for pemmican. Not surprisingly, pemmican with berries was highly prized and used mostly for weddings and other ceremonial purposes. The leaves and roots were prized for their anti-inflammatory, decongestant, and stimulant properties, and were thought to have agents that promoted healing for diseases of the eye and labor contractions in pregnant women. Personally, I have never been willing to 'waste' my raspberry treasures to create a face mask, reportedly used by native women.
If you do get any wild raspberries home, they can be used in any way that you would use their cultivated cousins. Personally, I think that their delicate flavor is perfect sprinkled on a salad of baby greens, especially baby spinach. Nutritionally, they are an excellent source of both vitamin C and fiber. They also contain 10 times more antioxidants than broccoli or tomatoes, including some unique compounds that are not found in any other produce items.
Watch for Part 2 ... with delicious chokecherries, huckleberries, and more!

For more details on Montana edible berries and other plants, visit the online guide at http://montana.plant-life.org. Each presented species has its own page with pictures, a full description and, where applicable, information about edibility, medicinal and poisonous properties.