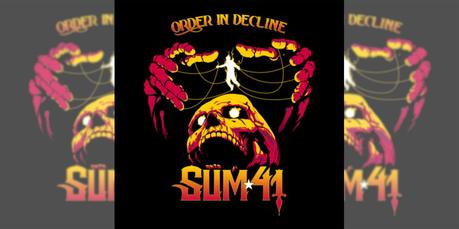 Sum 41, the one-time suburban youngsters on the Canadian rock scene, are now 20 years into their career and they have a brand new album, Order In Decline, to share with listeners.
In the lead up to the album release we had a chance to listen to the 10 new tracks a couple of times, and to catch up with bassist/back-up vocalist Cone (Jason McCaslin) on the phone to talk about their career, the new music, touring, and more. While we had him, we also played a round of 5 Quick Questions.
As we talked about the new record, Cone described it pretty clearly, saying, "The new record sounds like us. It's heavy, it's fast and aggressive. It's a real rock album... and there's a lot of heavy issues on it, personal issues on it. And I think if people liked our band already, they're going to like this one a lot."
From top to bottom, that description fits. You can hear the personal and political issues in the lyrics, and it does get heavy. It feels like music that was written by artists that have seen some shit. After 20 years in the band, and just living their lives, we're sure they have. Songs like 45 (A Matter Of Time) are pretty upfront about their message and intention. And then a track like Out For Blood (and its music video) connect to more personal life realities of people just trying to get through it all.
After I finished listening to Order In Decline for the first time, I immediately went and listened to their 2000 album, Half Hour Of Power. I wanted to compare the sound and feel. What I found was what Cone said about the new album too. It was heavy and fast and aggressive. It's cool to see that 19 years hasn't changed that.
During our call, I did ask Cone if he could point to anything that is different with the band now versus their early days as teenagers in the rock and roll business. He told me that there were two main things that he could see as differences. And then added a little something that made us both laugh. "I think the biggest thing that I can feel is the heavy, heavy focus of everyone now... Focus and probably the less partying aspect." he added, "When we were in our early 20s we were outta control... We were trying to be Mötley Crüe as best we could, and succeeding in a lot of areas."
But as much as that has changed, the passion and commitment to playing and being great has not. We talked about the Sum 41 touring schedule this year being split between their headlining tour, and asked what the difference is between those two setups. Again Cone had two things to point to. The first, and maybe most obvious, is that the set time is shorter on the festival circuit. And with 45 minutes or so, they don't have time to play everything they can in a two-hour set on their tour. He also said that when they're playing something like the Disrupt Tour, they're going out on stage looking to stand out and leave their mark. They don't want to be just another band on the lineup, they want people to remember their show.
Cone also talked about the fans and crowds they get at their own shows. He loves looking down at the front row and seeing 40-year-old fans who have been there from the beginning standing beside 14-year-old fans that know them from their newer music or discovered the older stuff on YouTube or streaming platforms. It's something that's bound to happen when a band puts out music for two decades, but only if they are still making music that connects with new audiences as time goes on.
The new music on Order In Decline feels like it's going to handle that job of connecting and drawing new fans in. It's also going to help with something else that came up on our call, which is the fact that Sum 41 hasn't plateaued. Cone told us that knowing that the band can hit the road and return to cities they've played before and sell more tickets now is a great feeling. It reinforces the idea that people are still interested and invested, and aren't looking at concert announcements and saying to themselves, "oh these guys again".
Yes, some of the life experience stories in the songs may not connect with younger teens, but that heavy sound and rock and roll energy will be there for them. And no matter the age, they might still go all in. We asked about the response to the new music so far (pre-album release) and Cone told us that it's at the live shows that he's really looking for fan response. He doesn't care much about comments on YouTube videos (which is probably good advice for all artists), but when they play a song live he wants to see how the audience reacts. And he told us that it's gone well with the new music. Shortly after Out For Blood was released, he said that he was looking out into the crowd and could see and hear fans singing it back to the band as if it were one of their old songs. That is a connection. And that is special.
And now that the full album is available for fans to listen to as they prepare for upcoming live dates, we have a feeling that Sum 41 will be seeing and hearing more fan participation with the new songs. They are fast and heavy and aggressive. They're a lot of fun and will get your blood pumping and make you want to move and sing and scream along. Two decades in, it shows us that they do still know who they are and what they're doing.
We were talking about the industry and what's changed over the years with rock radio, music videos and outlets like MuchMusic back in the day versus YouTube now and Cone told us, "Music genres are changing, bands are changing their own music genres with what they're doing, and we're just staying the course. We're just being us and kind of touring and playing."
So, if you were a Sum 41 fan as the 90s became the 2000s, if you've been following the band all along, or you took a break. Or, if you've discovered them more recently and want some more - this is us telling you that Order In Decline is 10 songs and 36 minutes worth your listening time. And it will be worth all the repeat listening time too.
Before we wrapped up our call with Cone, we got him to play a round of 5 Quick Questions. Check out his go-to road trip album, his bucket list venue, and listen for an awesome but bitter-sweet story on his dream collaboration. Enjoy!
5 Quick Questions with Cone of Sum 41
Sum 41, Order In Decline Tracklist
1. Turning Away
2. Out For Blood
3. The New Sensation
4. A Death In The Family
5. Heads Will Roll
6. 45 (A Matter Of Time)
7. Never There
8. Eat You Alive
9. The People Vs...
10. Catching Fire