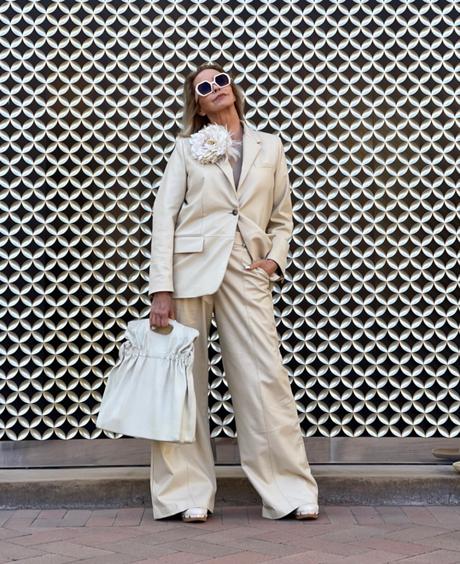 Oh how I love a good suit!
As an
 Empath
I love the feeling of 
Armor and Protection.
As an 
Aesthete 
I love the immediate 
Ease of Feeling Put Together.
As an 
Artist
I love how the suit becomes
a blank canvas for 
Creative Interpretations.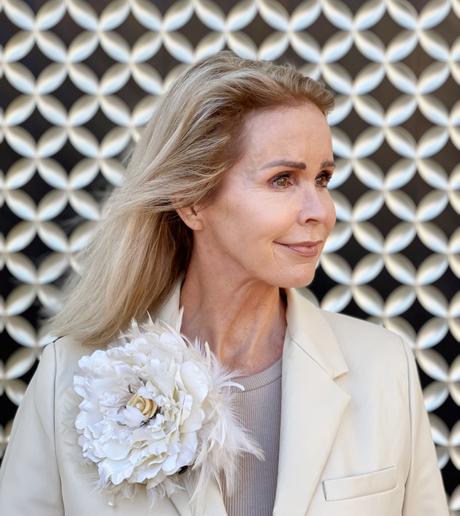 And as an
Accessory Designer
A Good Suit 
makes for such a great and joyful wardrobe player!
My signature oversized 
Floral/Feather Broach 
adds a full dose femininity and funto the menswear lines of the suit.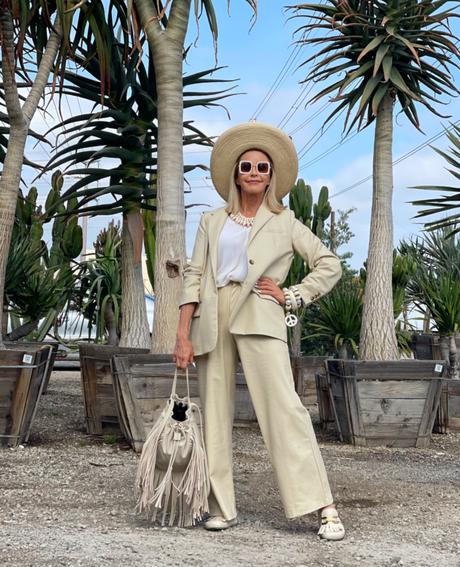 My most recent discovery for my suits
Two pairs of the same pantin two different sizes!
Why you ask?
When I lost the 40 poundssome months agoI of course took in my kaki suit pantsto be altered.
With a perfect fit at the waistI had lost the drapey,  over sized flowthat I had actually likeand is now part of many fashion forward suits.
I also lost several inches of length.
So now I buy two pairs of suit pants.One fitted at the waistfor flat shoes and oversized sweater layering.
And right now I am buying a second pairin a larger sizeto get the flowy drapewith added lengththat I lovewith my heels!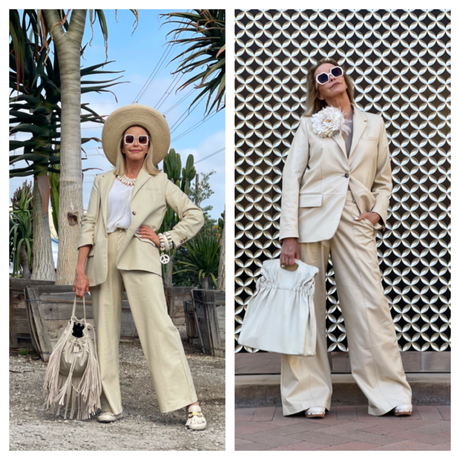 You can see the difference in fit and length.
Now one suit can take me fromrunning errands and shopping for accessory suppliesin flatsto any occasion that I want to bring out the heelsfor a dressier finish!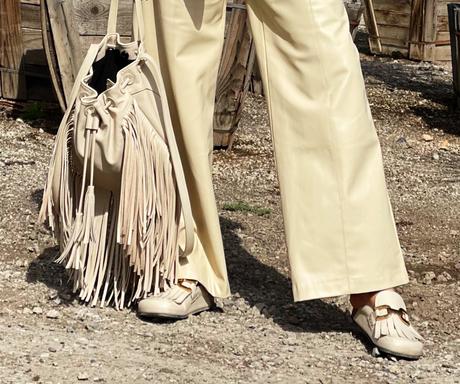 The shorter pairworked great for a Saturday of local errandsand a stop at our favorite plant wholesalerfollowed by a lovely lunch out!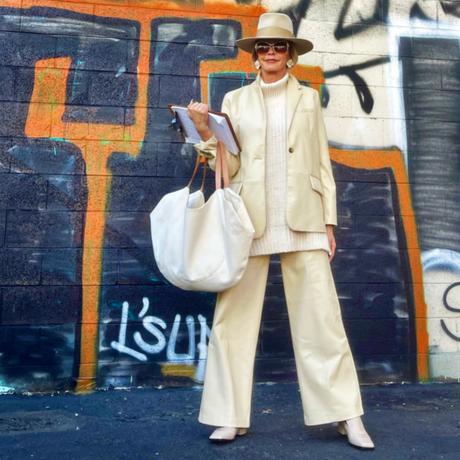 Here I layered the shorter, fitted pairwith an oversized sweaterfor a Downtown Los Angelesday of supply shopping for myAccessory Line.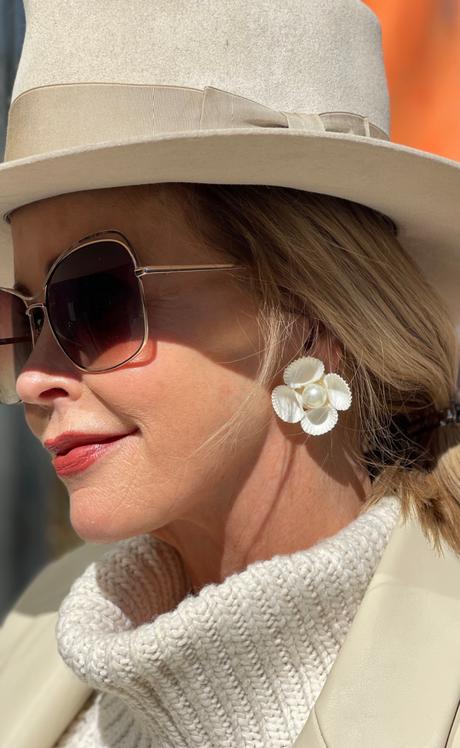 For supply shopping I Accessorized withmy post shell earringand my vintage Stetson hat.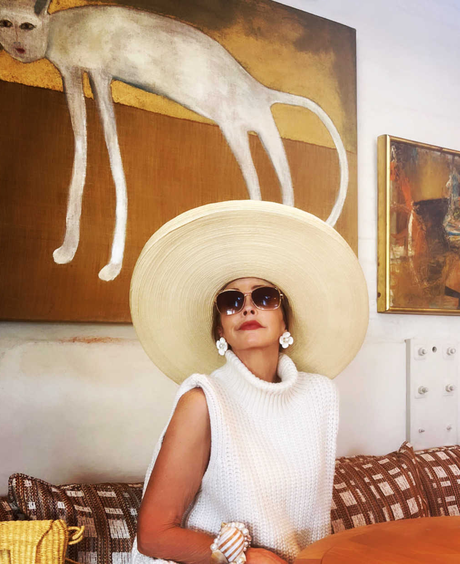 For lunch at the fabulous 
Proper Hotel Rooftop
It was sans jacketwith my favorite huge sunhatwith my equally sized signature shell cuffs!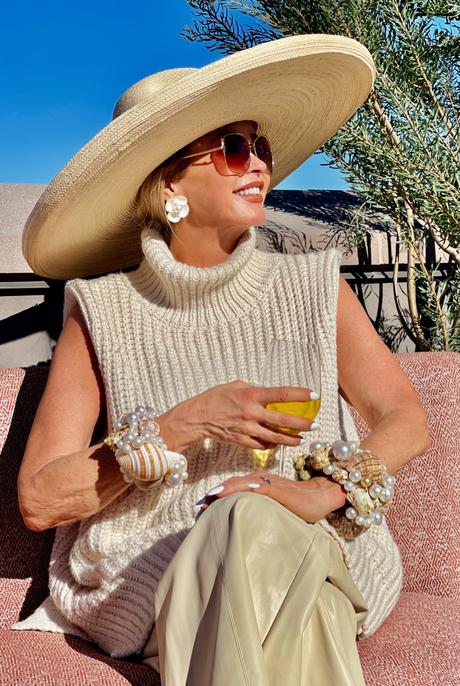 Simple Accessory changes
took be from getting business doneto 
Celebrating a stunning 
Los Angeles sunny afternoon!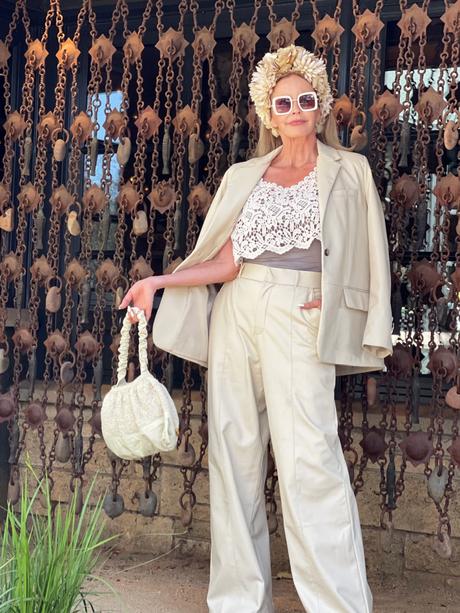 For our apres dentist appointment lunchI styled my suitwith the longer, unfitted pantpushing it for a full 
Romantic Look
once again juxtaposing the masculine feel of a leather suitwith a lace crop topthat I layered over a fitted cami.
A new purse fashioned out of leather and crochetwas a perfect complementto my 
Signature Floral Headband!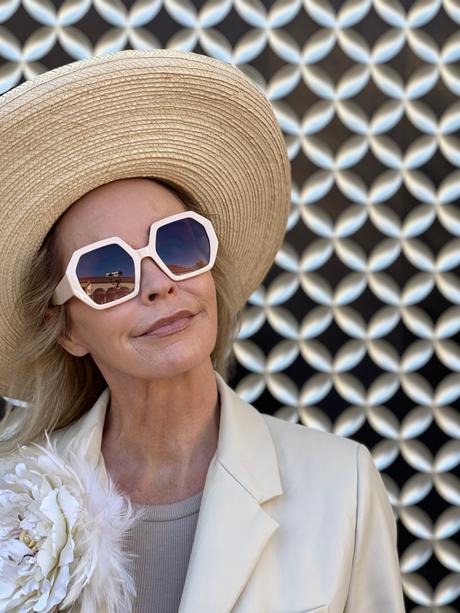 And so ends this
Ode To A Great Suit
with 2 pantsand
 a  robust love of
Accessories!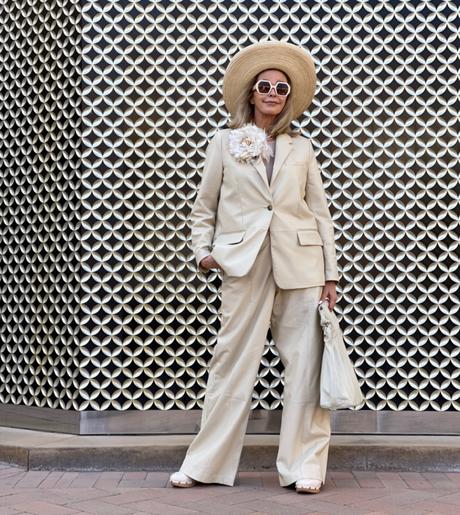 As always my friends
I wish you love and joy 
as you style your life