New to little Indiana? Subscribe for free to my RSS feed. Thanks for stopping by!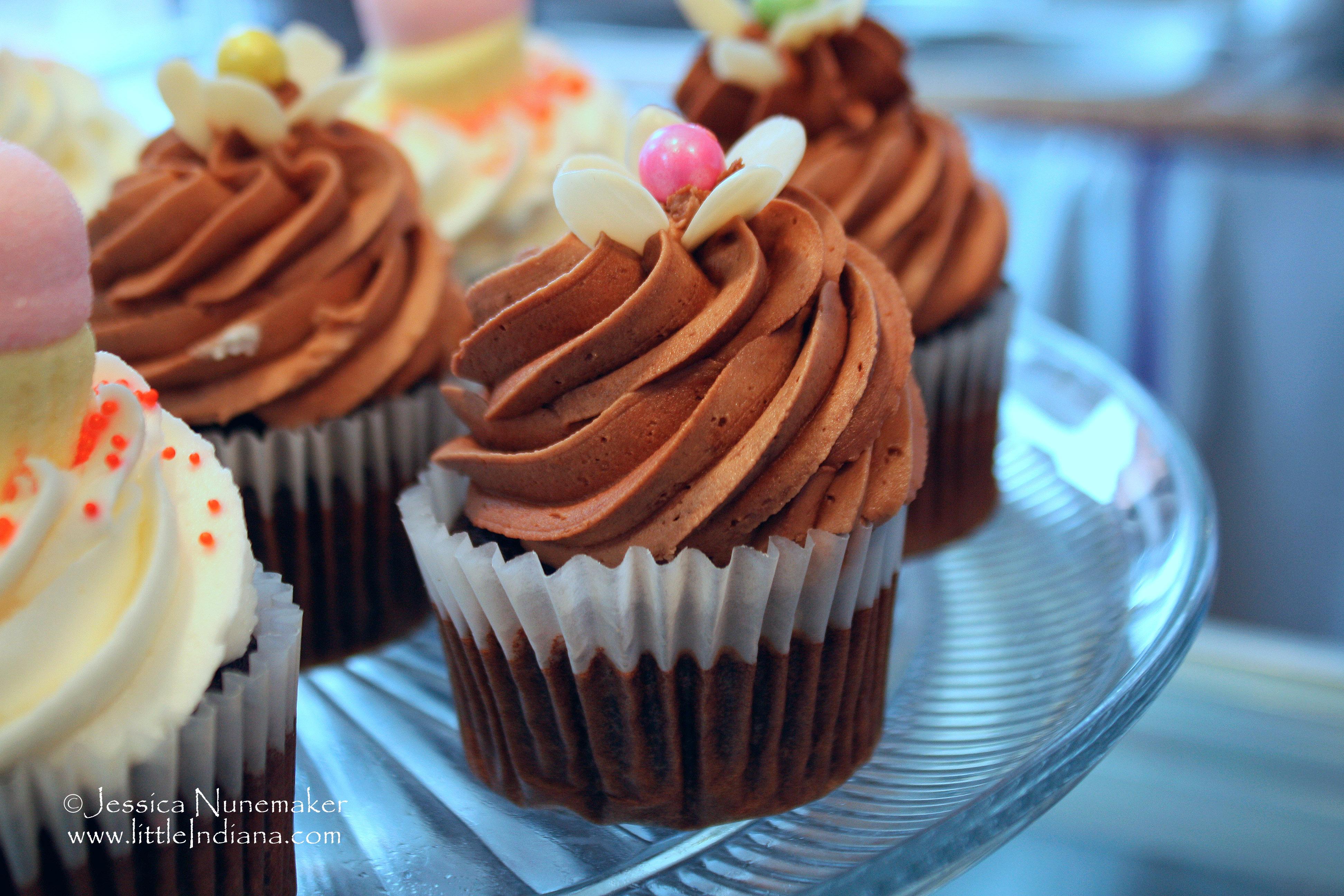 SugarBean Cupcakes: Arcadia, Indiana A Plateful of Pretty
Arcadia, Indiana
Amazing Indiana cupcake shops aren't just in the big city don't'cha know.
SugarBean Cupcakes in Arcadia, Indiana
little Indiana and hubby ran inside SugarBean Cupcakes as soon as we got to Arcadia. I'm not even exaggerating.
It may have been, um, rather early in the morning for cupcakes but that didn't stop us! I had heard good things about SugarBean Cupcakes–and couldn't wait to begin my research!
To make up for breakfast we could have chosen something like French Toast Cupcakes or even Orange Dream Cupcakes. Vitamin C right? But then again, I am little Indiana and…when do I ever turn down chocolate for breakfast?
Indiana Cupcake Shops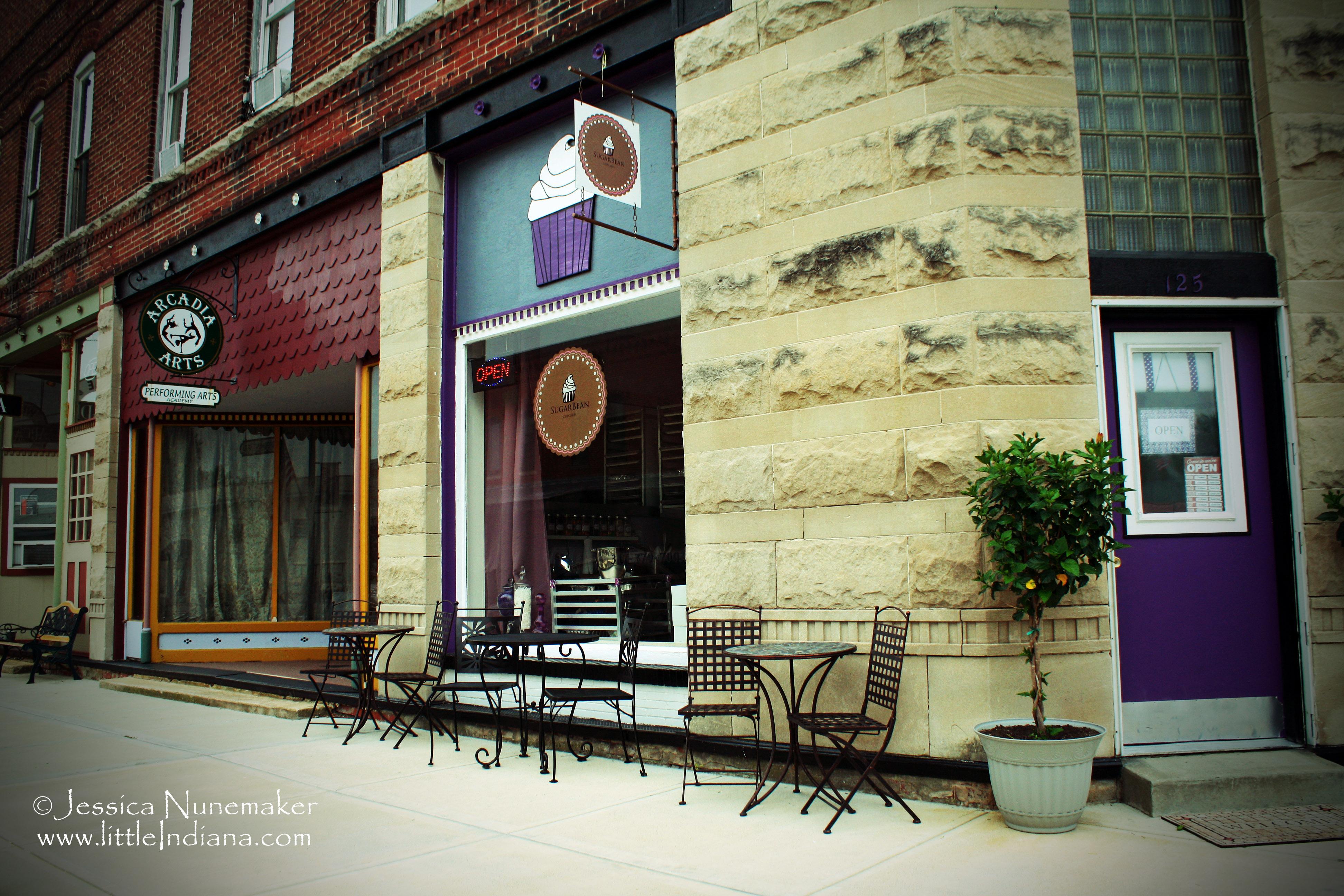 SugarBean Cupcakes: Arcadia, Indiana
Chocolate and Strawberry Cupcakes, Turtle Cupcakes, Toasted Marshmallow Cupcakes, Going Bananas…are you drooling yet?
That's just the tip of the buttercream frosting. Owner Cheryl Muir is always experimenting with new flavors and unique combinations in her adorable Indiana town shop.
You may also find Maple Pumpkin Cupcakes, Grasshopper Cupcakes, Sundae Surprise, or Oreo Birthday Cupcakes. But no matter what you choose, it will be beautifully decorated–and have a flavor to match!
I shopped by colors that day–and ended up with a Chocolate Strawberry Cupcake. Hubs went with the tremendously popular Turtle Cupcake.
There's more than cupcakes at this Hamilton County shop. On our visit we saw Pumpkin Bread and Lemon Custard. You just never know what you will find! But at least you know that no matter what it is, it will be delicious!
Go There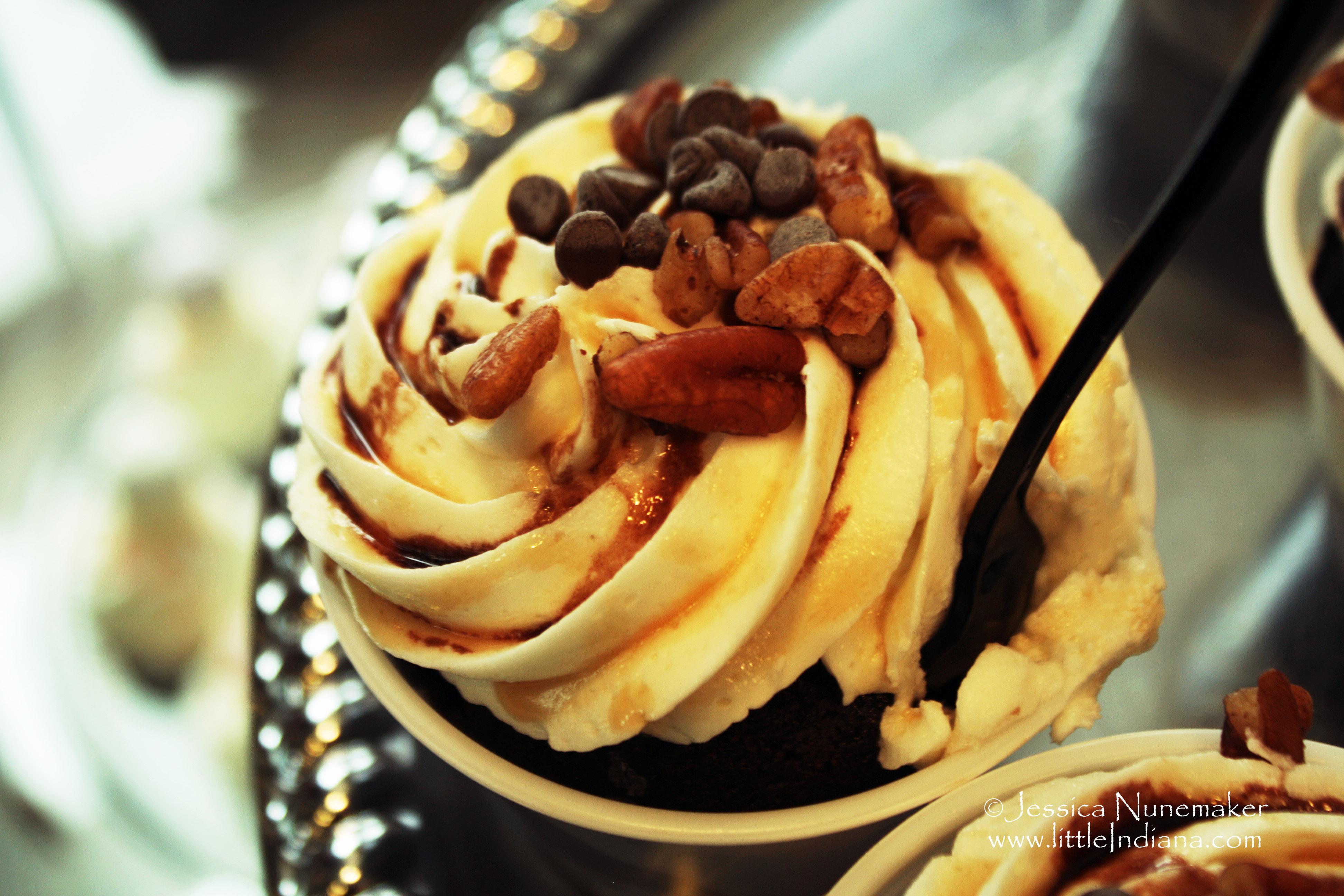 SugarBean Cupcakes: Arcadia, Indiana Turtle Cupcakes
You probably don't need much urging on this one. I mean, homemade cupcakes are kind of a no-brainer, right?
Plan ahead. When SugarBean Cupcakes sell out (which they always do), they close for the day so they can begin preparations for the next one! Cheryl should be proud of her success. Oh how sweet it is!
Find pictures in Indiana on my Flickr photostream or on the new little Indiana Tumblr blog.
Just don't forget to tell 'em that  little Indiana sent you!
SugarBean Cupcakes
125 West Main Street
Arcadia, Indiana 46030
317.379.7003

View Larger Map
Don't miss a moment. Subscribe to little Indiana and receive instant updates to stay on top of everything "little."
little Indiana: Where to Stay, Play, and Eat in Small Towns in Indiana. Discovering Indiana's best small towns! Now get little Indiana on your Kindle.
Targeted. Relevant. Affordable! little Indiana advertising.