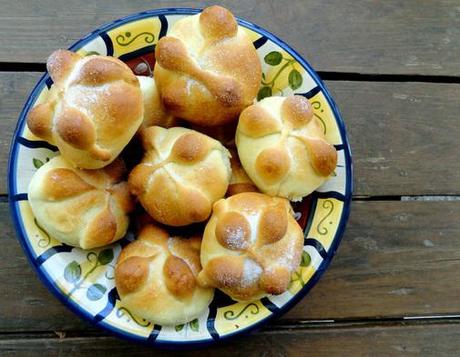 Pardon my recent absence. No twitter. No facebook. No-email accounts. No blogs. 
Instead I've been walking through rain with my husband, and licking  frosting off cupcakes with my niece.
Last night, I toasted my grandparents as they celebrated 60 years of marriage and cut into a wedding cake I made in their honor.
Just hours ago? I laughed until I cried--my mom, sister and I piled in a hotel bed as we brainstormed about our 1st annual Christmas musical.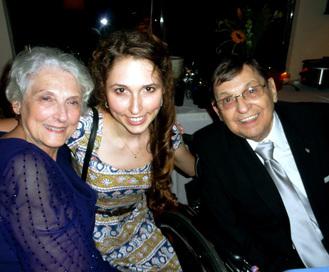 Happy 60th Anniversary Grammi and Papou!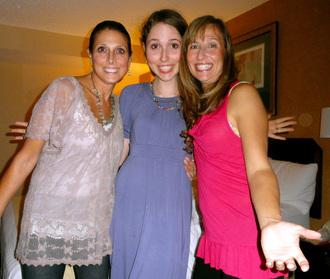 Mom, me and Susanne after dinner at Vespaio...we're still pretty jazzed. On Friday, Ryan and I left our cats in the care of two dear friends, drove 200 miles to Rice Village, and spent the weekend with family and friends (some of whom I haven't seen in years!)
And to make this weekend even better, I took my sister, mom and niece back to Austin with me. We piled into my 1997 Jeep Grand Cherokee and made the 3-hour drive home. (Of course, we stopped at an old gas station to buy pints of ice cream after a good ninety minutes...on a day as hot as today, how could we not?)
We arrived, wrinkled yet happy, and pulled suitcases up our flight of stairs.
After glasses of lemonade in my treehouse apartment, we dined at Vespaio with red wine, baskets of bread, plates of steaming pasta, and a general feeling of blessedness. It was a meal executed with precision and thoughtfulness...the kind of dining that meets my "standard" of excellence and makes me want to hang my own pots up for weeks.
As I type now, with kittens rolling on the floor and Ryan answering a slew of emails, I thank God for bringing my family together this weekend. In my guest room, Susanne and Halley are sleeping--their blond hair intermingling as they curl up together and dream sweet dreams.
If only I could corral them all! My parents, my sisters, my aunts, uncles, cousins. If only we could buy a block and build houses with matching stone and front porches with rocking chairs.
I'm a communal type of girl.  And much to our husbands' chagrin, Susanne and I will continue to plot and scheme until we can make our dream of the Moutrie-compound a reality.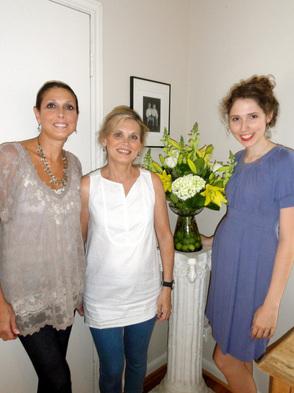 My mom, Aunt Sherry and me.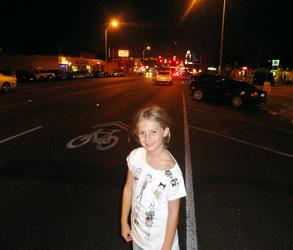 The best eight-year-old in the land--Halley Hoffman. Tomorrow morning, we'll wake up to a pot of coffee and crawling kittens. We'll sit in our living room and flip through magazines, pull out favorite books, and talk about our trip to Paris.


If we're lucky, I'll have risen a few hours earlier to put a pan of these rolls in the oven. Soft and billowy, these sugar sweet rolls are reminiscent of pan de muerto

. They are perfect for dipping in  cup of strong black coffee--the creamy butter and sugar meeting the dark brew.
Bread reminds me of family, and there is no greater pleasure than watching the eyes of my sister, mother and niece light up when I pull out a pan of just golden bread. I'll stand in my kitchen as they talk, brushing butter and sprinkling sugar, and then our day will begin--together--like it always should.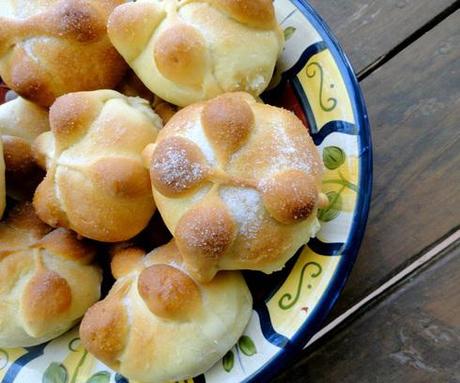 Sugar Sweet Rolls
1/2 cup whole milk
5 TBSP unsalted butter
2 4x1 inch strips of orange zest (use a vegetable peeler)
1 tsp vanilla extract
3 large eggs, lightly beaten
1 3/4 tsp active dry yeast
3 1/2 cups all purpose flour
1/4 cup granulated sugar
1 tsp. kosher salt
Topping:
4 TBSP unsalted butter, melted
1/4 cup granulated sugar
1.  Place the milk, butter and orange zest in a saucepan.  Heat over medium-low heat until butter is melted.  Set aside to cool and discard the orange peel.  When mixture is warm, whisk in the eggs.
2.  Dissolve the yeast in 1/4 cup warm water.  Allow to sit until mixture becomes bubbly.
3.  Mix together flour, sugar, and salt.  On a large work surface, pour dry ingredients into a mound and make a well in the center.  Gradually pour milk and yeast mixtures into the center of the well while mixing with your hands.  Knead until a smooth ball of dough develops (you will probably need to add some additional flour...the dough should be slightly sticky, but able to form a cohesive ball)
4.  Allow the dough to rise in a lightly oiled bowl for 1 to 1 1/2 hours or until doubled in size.
 
5.  Once dough has risen, cut off a lemon-sized piece of dough and set aside.  Divide the remaining dough into 12 round pieces.  Place on a lightly greased heavy-duty baking sheet and flatten lightly with the top of your hands.
 
6.  With the reserved dough, divide into 24 equal pieces (they'll be small!)  Roll them out with your hands from the center out, making ropes that are slightly longer than the width of the rounds.  While rolling, press with your index finger and middle fingers spread about one-inch apart to make the knobs that represent the bones (this was the hardest part).
7.  Arrange two of the ropes on top of each round, overlapping the ropes in the center.  Cover loosely with plastic wrap and let rise in a warm place until doubled in size, about 45 minutes. 
8.  Preheat your oven to 350 degrees and bake your rolls until they have an even golden color, 20-25 minutes. Remove from oven. 
9.  Brush each loaf with melted butter.  Sprinkle with sugar, tilting the loaf slightly to help coat it evenly.  Cool to room temperature before serving.  


Always,




Monet


Anecdotes and Apple Cores