When I was little I wanted the birthday cake with the snow-white frosting from the bakery, stiff ruffled piped edges (with a little leaf here or there), and lots of roses (which I got first dibs on, it being my birthday).  As my mother explained it, that frosting was little more than sugar and Crisco mixed together.  (Yes, friends, I was one of those precocious foodie kids).  Post-cake, as I looked at the blue cans of Crisco in our pantry, I had a hard time wrapping my mind around this.  So if I just mix sugar into that cylindrical tub, I'll have frosting?   The thought of it was confusing and more than a bit offputting so I never ventured further.  Not offputting enough that I stopped eating frosting-heavy pieces of cake though.
Nor was it offputting to anyone in our family.  There was always an excuse for cake or its ilk.  Since birthdays weren't frequent enough, in 1990 my father ordered a cake to celebrate Germany's reunification.  The excuse was that our dachshund, as a German breed (and the only one in the house with putative German ancestry), would want to celebrate the occasion.  It's ridiculous, I'll admit, and we knew it at the time, but we got to eat a (black, red and yellow) cake.
Perhaps I've grown more refined with age (or so I like to think), and while birthday cakes are still a must, it's no longer all about the icing.  I still love the stuff, but I don't miss that slightly ill feeling of overindulgence afterwards.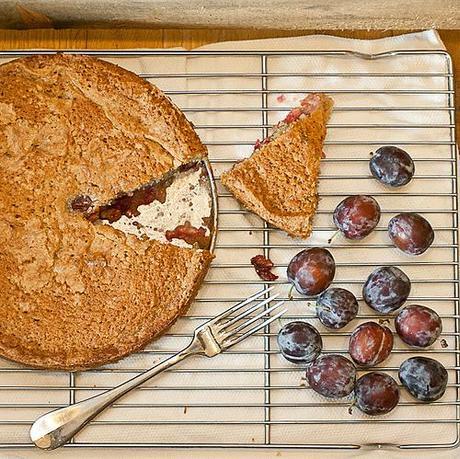 To forgo frosting, however, requires a cake that can stand on its own.  Perhaps one loaded with juicy plums that bake down intense and syrupy, melting into a rich walnut-inflected crumb?
Yes, that will do.
Especially when it's from the cookbook of one of Boston's most acclaimed chefs, Jody Adams of Rialto and more recently Trade, In%20the%20Hands%20of%20A%20Chef%20:%20Cooking%20with%20Jody%20Adams%20of%20Rialto%20RestaurantIn%20the%20Hands%20of%20A%20Chef%20:%20Cooking%20with%20Jody%20Adams%20of%20Rialto%20RestaurantIn the Hands of a Chef.   With her husband Ken Rivard, they also are behind one of my favorite blogs, The Garum Factory.  They're all about bold ingredients (the namesake says it all) and elegant flavor combinations.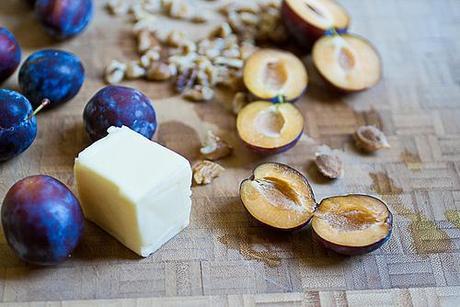 I've had this cookbook for a while, and have been waiting for plum season just to make this cake (and more jam and more galettes).  When, a few days before my birthday, I got sugar plums at the farmer's market–petite, purple, which that characteristic waxy bloom–their future was clear.  While smaller than Italian prune plums, they come into season a bit earlier, and substituted wonderfully.
This post incubated for a while, and plum season is by now finishing up.  The good news is that Italian prune plums, which the recipe calls for, are a later season variety.  Furthermore this cake couldn't be easier to make–I whipped it up on a weeknight with no more advance prep than buying the plums.  It's moist from the fruit and rich from the nuts, and is therefore plenty indulgent, frosting or no.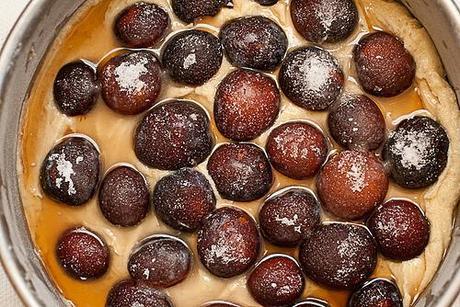 And it has a little brandy–and we all know that alcohol always helps a bit on birthdays.
Yes, my birthday was exactly a month ago but I've only finally gotten around to posting now.  We've had a server switch, followed by a switch to a Mac after my PC started malfunctioning.  Here's hoping that we'll be on a more regular posting schedule soon.  Enough housekeeping and on to the recipe!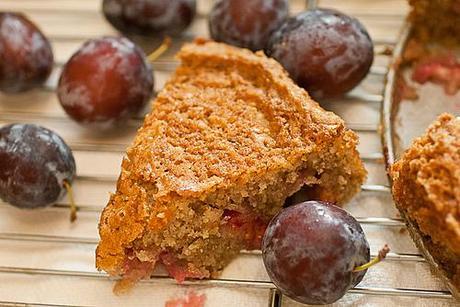 Sugar Plum Walnut Butter Cake Print
Author:
adapted very slightly from In the Hands of a Chef by Jody Adams and Ken Rivard
Ingredients
9T unsalted butter at room temperature
1c + 1T unbleached AP flour
16 sugar plums (or fewer prune plums) cut in half
1/4c brandy
1t lemon zest
1/2t vanilla extract
1t baking powder
1/2t kosher salt
2 extra large eggs at room temperature
1/4c ground toasted walnuts (I measured 1/3c walnuts)
Instructions
To toast the walnuts, toss in a dry skillet over medium for a few minutes until toasted. (Watch carefully, they can burn easily). Immediately remove to a plate and grind in the food processor when cool.
Preheat the oven to 350F. Butter a 9-inch springform pan with 1T of the butter and dust with 1T of the flour.
Toss the plums with 2T of sugar and the brandy, set aside.
Stir together the remaining cup of flour, baking powder, and salt together in a small bowl.
In a large bowl, cream the remaining 8T of butter into the sugar, lemon zest, and vanilla until light and fluffy. Sift in the flour mixture.
In a separate bowl, beat the eggs just until they start to foam. (Do not overbeat). Fold the eggs and the ground walnuts into the flour-butter mixture and mix well.
Scrape the batter into the prepared pan. Arrange the plum halves, cut side down, in concentric circles over the batter. (The batter will rise up around the plums as is bakes, so don't kill yourself trying to make sure it looks perfect). Pour any remaining brandy syrup on top. Sprinkle with the remaining 2T of sugar. Slide onto a cookie sheet to catch any spills.
Bake one hour, or until the cake is golden brown and a cake tester comes out clean. (Be careful not to test through a plum!). Cool 10 minutes before removing the sides of the springform pan and serving.
2.2.8