Guest Post By Shivani Surve
My affair with lipsticks is a pretty recent one. Initially, I used to stick to basic, neutral shades that wouldn't really stand out or make much of a difference to my face. As recently as about two months ago, I got interested in matte lipsticks, especially because I was more than annoyed with this one quality that most lipsticks seem to have which is to leave their marks (and our lip prints) on just about anything. Now, leaving a mark like that on your Starbucks to-go coffee cup might make for a good Instagram-esque picture, but I am not a huge fan of touch-ups and/or blotched lips. There are quite a few good, premium brands in the market that would exactly meet my novice lipstick needs, but they come at a steep price, so I was quite surprised when I came across this comparatively new brand called 'Sugar Cosmetics' that looked premium but had priced its products in a way that did not leave a lipstick-shaped hole in your pocket. And since I was feeling particularly bold one fine day, I decided to order their Hollywood-style, blue-toned red shade for my wheatish (for the lack of a better term) Indian skin tone with yellow undertones. Rookie mistake? I think not.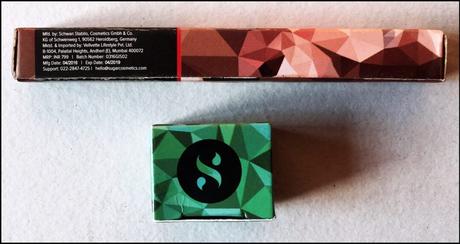 Let's get some basics out of the way first.
The official website claims the following about their SUGAR Matte As Hell Crayon Lipstick:
Product Details
" If excellent coverage and high colour pay-off is what gets you going, you will absolutely love our new SUGARMatte As Hell Crayon Lipstick that is available in 5 gorgeous shades to suit your taste & your ever-changing mood! Super long-lasting and highly pigmented so you don't have to worry about constant re-application, this must-have crayon lipstick has a soft texture with a silky matte finish...Every Matte As Hell Crayon Lipstick comes with its specially designed high-quality sharpener that is carefully crafted to help you make the most of your purchase...The Sugar Matte As Hell Crayon Lipstick has a creamy consistency that eventually settles into a matte finish. With stunning shades that don't fail to impress, it provides maximum coverage with the right amount of color. This power product is dermatologically tested & approved and 100% safe for your skin...Its wax-based formulation does not contain mineral oil, parabens, paraffin, phenoxyethanols, volatile cyclometric ones (D4, D5, D6) and animal derived ingredients."
Mineral oil-free, paraben-free, animal ingredients free. So far, so good.
Where to Buy : I ordered my lipstick in the shade 'Scarlett O' Hara', which is like a really fancy name for the color red, from www.purplle.com for INR 799 (Quantity: 2.8 gms).
Now let's dive into the review.
My Take on The Product
First of all, I was quite anxious about how would a shade that's so rightly been named 'Scarlett O' Hara' look on my skin. I had googled 'red lipsticks for warm undertones' (because I am a geek and I never buy makeup without researching it first) and most of the websites dutifully instructed me to go for 'warm reds' or 'orange reds'. But, like I said before, this one is a blue-toned red color. So, I threw the good advice from these helpful websites out the window and ordered this shade because I liked the sleek packaging, the premium look of the product and quite frankly, because the name 'Scarlett O' Hara' sounds pretty badass to me. I'm vain that way. To my utmost relief and the relief of the Rs. 799 that happily left my bank account when I ordered this, the color, somehow, looks great on my skin. It's bright, it's super (super ) red, like a true red color (know what I mean?), and it perfectly complements my wheatish (again, for the lack of a better term) skin tone.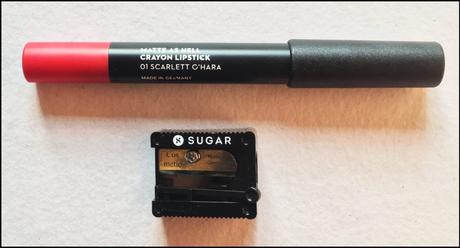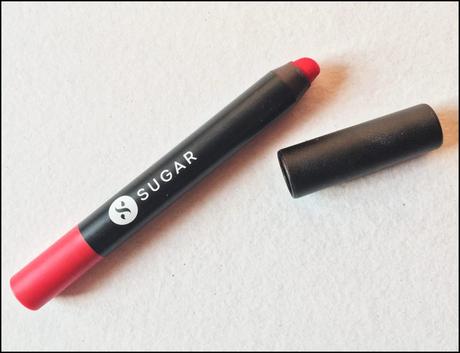 Texture/ Pigmentation : The SUGAR Matte As Hell Crayon Lipstick glides easily on the lips as the texture is quite soft and creamy and you get the true shade in just one swipe, which is perfect because who really has to time to layer it on and on. The finish is a perfect powdery-matte. It does not settle into the creases and does not highlight any lines. The lipstick survived one full meal. No blotches. No fading. No touch-ups. And the best part, it transfers very little, maybe a teeny tiny bit and one can live with that at this price range. Even after 7-8 hours, it leaves a stain on your lips and the only way to completely remove it is to wipe it off with cotton and coconut oil (or any other makeup removal technique that you use) at the end of the day.
The only con that I could think of is the fact that the formula is not very hydrating and it dried out my lips a little bit so you'll want to exfoliate and moisturize your lips prior to the application and use a lip balm overnight after you've taken the color off, especially during the dry, winter months.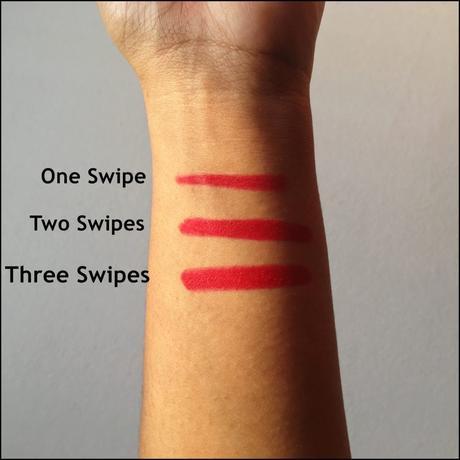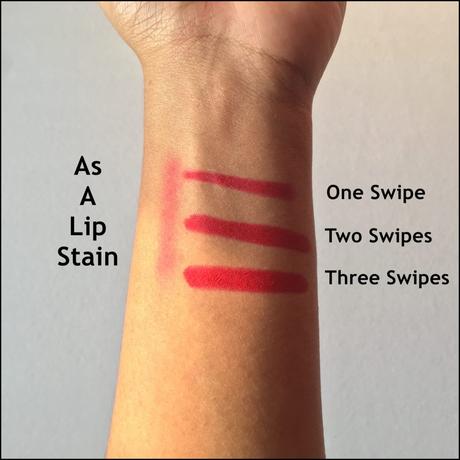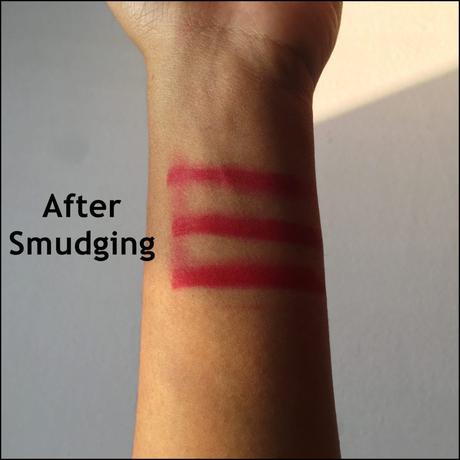 Rating:4.5/5
Final Recommendation
All in all, I think is that SUGAR Matte As Hell Crayon Lipstick is a really good product for the price at which it comes. I absolutely love it. Go for it if you're a fan of matte texture in lip colors and are looking for long-lasting, affordable and good-quality lip crayons. There's not much to complain about here. I might also go as far to say that this shade has the full potential to give MAC's 'Ruby Woo' a run for its money!
Quick Tip: If you haven't shopped from their official website yet, register yourself for a 10% off discount coupon (And watch your money bid you a tearful, yet happy goodbye!).a