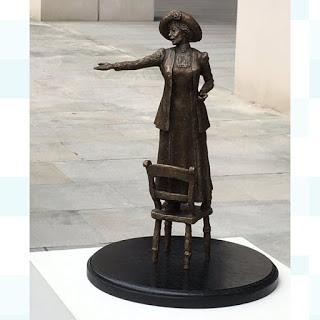 Goodness me, that was a quick holiday. One moment I was sunning myself in the unexpected warmth of glorious South Uist and in the next blink I'm home at my desk. The bit in the middle was filled with breath-taking scenery, meeting interesting friendly people and learning about the Hebrides. We notched up 1700 miles exploring and traveling.So here I am and before I get cracking on planning a trip to the Orkneys and Shetland Isles, my blog page beckons.   I was delighted to learn that a statue of Emmeline Pankhurst is to be erected in her home city of Manchester, at last.The first time I saw sculptor Helen Reeves' model of 'Rise Up Women' I felt emotional. The pose is perfect, exactly as I imagined Mrs Pankhurst to be, standing on a chair addressing a crowd. She is remembered as the leader of the British suffragettes, but she was much more than that. She was a political activist and social reformer in the late 1800s. She founded the Women's Franchise League which fought to allow married women to vote in local elections, and later the Women's Social and Political Union, a women's suffrage organisation separate from any recognised political party. It became the Women's Party, promoting equal rights for women. It was an important start to a fight that was still on-going a century later. Equal pay is something that has only happened during my working life. Emmeline was refused membership to the Independent Labour Party because of her gender. I wish I'd been a fly on the wall when that happened. I don't imagine anger or shouting, I think of her as fastening her coat, putting a pin through her hat and saying, "Well, I'll show 'em. Watch this." Living at this time in Chorlton-on-Medlock, this strong, determined woman from Moss Side, as forceful and as capable as they come, involved herself in everything she could to make the right sort of changes. She was constantly busy fighting for what she believed in and at the same time raising her own family of five. Her daughters, Christabel and Sylvia fought the cause with her as they reached adulthood.She supported her barrister husband, Richard, with his causes including education reform. He also advocated women's suffrage. My family, on my father's side from many generations come from Chorlton-on-Medlock. They would have been living there at the same time as the Pankhursts. I'm proud to come from a long line of those northern women who might have known or met Emmeline and her family. I wish I'd inherited half their grit and strength. I might have suffrage campaigners in my ancestry.I wonder if any of my lot chained themselves to railings or were subjected to horrific abuse being force fed in prison. It is something to look into.  Votes for married women over the age of 30 were granted in 1918. All women were given the same voting rights as men, which was voting at age 21, in 1928, shortly after Emmeline's death. I will remember the suffragettes when I cast my vote on Thursday.   Emmeline Pankhurst's Manchester statue, 'Rise Up Women' will be unveiled in St Peter's Square on 8
th
March, 2019 to mark International Women's Day. The photo is from the Manchester Evening News.   I found this poem, Coming by Charlotte Perkins Gilman (1860-1935).  
Because the time is ripe, the age is ready,
Because the world her woman's help demands,
Out of the long subjection and seclusion
Come to our field of warfare and confusion
The mother's heart and hands.
Long has she stood aside, endured and waited,
While man swung forward, toiling on alone;
Now, for the weary man, so long ill-mated,
Now, for the world for which she was created,
Comes woman to her own.
Not for herself! though sweet the air of freedom;
Not for herself, though dear the new-born power;
But for the child, who needs a nobler mother,
For the whole people, needing one another,
Comes woman to her hour.
Charlotte Perkins Gilman
Thanks for reading, Pam x
Email This
BlogThis!
Share to Twitter
Share to Facebook
Reactions: