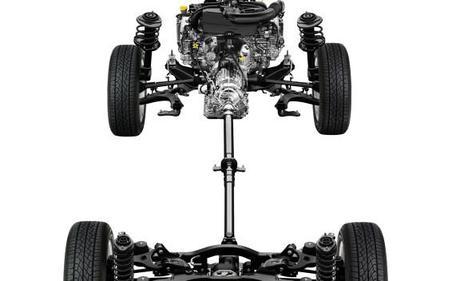 With the lowest Corporate Average Fuel Economy (CAFE) ranking for imported passenger cars from Asia in 2011 (30.6 miles per gallon), Subaru has announced plans to increase its fleet-wide average by 30 percent. It
trails behind
Honda (42.1), Toyota (41.1), Hyundai (35.6), Kia (35.6), Suzuki (34.2), Mazda (33.8), Mitsubishi (33.2), and Nissan (33.1). According to
Car and Driver
, new engines and modified transmissions will increase overall efficiency by 20 percent, with lighter body and chassis components contributing the remaining 10 percent. By 2013, Subaru will also introduce its first-ever hybrid in Japan.
The specific engine changes include all-new, naturally aspirated 2.0- and 1.6-liter boxer-four engines. In the near future, Subaru plans to add direct injection (good for a 2 percent reduction in fuel consumption) and turbocharging to both. As many companies are doing nowadays, Subaru will replace more of its conventional automatic transmissions with the more efficient, though much bemoaned, continuously variable transmission (probably netting an additional 2 MPG).
However, nobody will be complaining about the use of high-strength and ultra-high-strength steel which will lighten various body and chassis components. Though it's unclear exactly what impact this will have on overall weight, it will likely be significant since the body and chassis account for a large portion of any vehicle's weight. Along with reducing its mass, Car and Driver says that Subaru is going to focus on decreasing aerodynamic drag.
Whether Subaru is responding to market conditions or the Obama administration's 54.5 miles-per-gallon mandate, we can expect lightweight materials and hybrid powertrains to play big roles in the future.
Image Credit: Car and Driver