Monumental verisimilitude is the hallmark of the Met's
Aida
, designed by Sonja Frisell on a deliberately grand scale. Those who like an
Aida
production to be reminiscent of the Egyptian wing at the Metropolitan Museum of Art will not be disappointed. Once dutifully parked, Tuesday night's cast of singers sang strongly and well. Thanks to their fine work and that of the orchestra under Fabio Luisi, the evening had minimal bombast and genuine musical excitement, though the careful attention to realistic detail lavished on the wall paintings was absent from the
Personenregie
.
The thrill of the orchestration which led to Verdi's music being excerpted by provincial bands and parlor pianists well into the twentieth century was relished by Luisi and the orchestra, and in turn by me. Precise attention to rhythmic values and subtle play with dynamics and contrasting timbres made the score as interesting and impassioned as it deserves to be. The dark tensions of the palace intrigue and the sensuality of the Nile scene were highlighted, and the violence of crescendi and climaxes was all the more effective for being judiciously unleashed. The singers were similarly committed, with Stefan Kocan a sonorous Ramfis. As the Pharoah, Miklos Sebestyen had good dramatic presence, if he was not as vocally dominant as might have been hoped. Alberto Mastromarino, as Amonasro, did justice to the king's character, and his fine Italian was a standout. Mastromarino's is a large voice, but with expressive phrasing, he achieved far more than mere bellowing would have done, and gave an impressive "Su, dunque."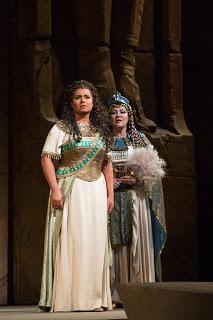 Showdown: Monastyrska and Borodina
Photo (c) Met Opera/Marty Sohl
The Amneris of Olga Borodina was delightful to watch in her absolutely ruthless confidence, reflected in her powerful mezzo. Though her notes could seem a tad wild at the top of her range, she seemed equally fearless across her range. Borodina also brought out Amneris' sensuality as well as her desire for (and habits of) political and personal dominance. The judgment scene saw her in her glory, and she contributed (surprising especially on this evening!) genuine piano singing in her heartbroken conclusion. Poor Amneris. Her desired Radames was Carl Tanner, standing in for the second time for an indisposed Marco Berti. Tanner sang with impressive stamina and consistency, and had no trouble making himself heard in the large ensembles. His Radames was more fighter than lover, but to hear such secure singing was a pleasure, and Tanner acquitted himself well in Radames' moments of doubt as well as confidence. Liudmyla Monastyrska made an Aida of stunning power. Hers was a fine performance, and to praise it merely in terms of vocal force would be a crude compliment, but at the most basic level, it is a visceral thrill to have an Aida who can send her royal rage resounding off the ceiling of the Met, nailing her notes of defiance to the back wall. Monastyrska's sound is not merely large, however; it is also rich, and she knew how to deploy it expressively. She navigated the emotional and technical challenges of "Ritorna vincitor" with unflagging energy, and gave a truly touching "O patria mia." Her confrontations with Borodina, especially, were excitingly charged. Despite power being the chief characteristic of the three principal voices, the final scene was given an appropriate sense of pathos, with lovely work from the orchestra. Unfortunately, the audience, badly behaved throughout, seemed insensible to this, applauding before the last ethereal chords had died away. Does Ftha have a curse for that?