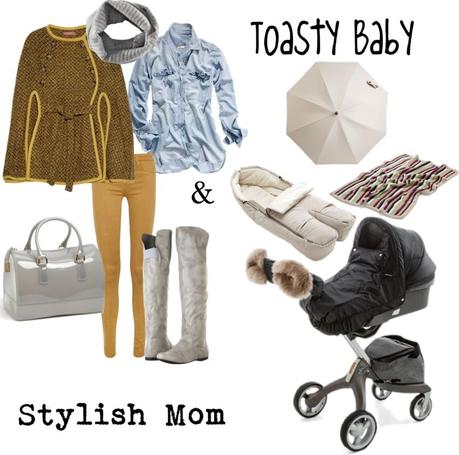 The November is on the doorstep and so are the cold temperatures.  It's been freezing here in the last few days hence bundling up is  up on the menu. 
Being a mom requires a lot of sacrifices, but style is the one no woman has to make. I think - and forgive me if I am wrong -  that feeling modern and beautiful is a very important aspect of for a new mom just as much as for an experienced one ( lets be honest - can one EVER be experienced enough with kids? they all are different little people). Some mommy days can be very crazy. And although everything is very gratifying at the end of the day , and the little gems , despite of the tantrums, demands, crayons on newly painted walls, are still my most important purpose in life, it IS very important for a woman to feel human, normal, SELF.  For me that means lots of walks outside.
And  that is why I absolutely LOVE Stokke for creating such eye-candy for me and a comfort cocoon for my little ones. No matter the weather, a baby sleeping bag, a footmuff or winter kit ( and combined together for a VERY cold day), we stroll comfortably and stylishly. And my 3 year old attachment plants herself comfortably on a riding board. 
To any of you that are on the market for a stroller - do trust my words. This post is not sponsored. First few years with our first two children were spent on finding a stroller that would work. After wasting money on a pram ( or a pushchair) after a pram that neither served their purpose in comfort for the baby or did not hold up in the quality,  we were very hesitant in purchasing Xplory.
We were sold on the "walking" part  ( did you know Xplory can walk the stairs?!) because living on the 5th floor of a walk up and carry 50lbs of stroller weight up and down twice a day was tough. The day we had our Xplory delivered ended our ever-going stroller search. Trust me , it is worth your every penny. 
Fast forward to 4 years later. We've discovered the fabulous accessories that , really,  are SO SMART. I get asked at least twice a day about those "mittens" that I have on the stroller. Now tell me - is this not a wonderful feature? So many companies compete between themselves about coolest baby gear, but does anyone else think of a mom? Those "mittens" kept my hands toasty all winter long and a little pouch in them kept my phone and other necessities right at my hand reach.  Add to it that ALL the accessories are interchangeable with the newest models that Stokke just released, this shows to all that Stokke cares for their customers unlike some other companies where customer's wallet is the priority.  
It's windy and cold outside, but we are staying stylish, toasty and comfortable. Stokke is the best, hands down, and will always be such because they think, care and deliver. That's all.
 Wishing you a great day wherever you are! 


Have you seen Stokke's newest additions?

 What do you think?


ps: please, note this is NOT a sponsored post. my personal feelings shared in finding that Stokke IS the best for covering my children's ( and all children's)  needs is true and i hope you can experience it too.