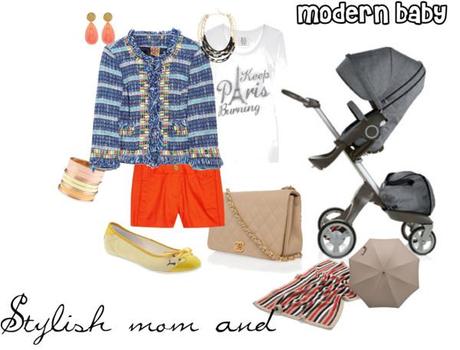 for stylish mama : 

tory burch

jacket

,tory burch

shorts

, puma

shoes

, chanel bag,

bauble

bar bracelet, necklace, earrings




for modern baby:

 

stokke

stroller

( limited edition! gorgeous blue melange) ,

blanket

,

umbrella
I had several requests from my faithful readers to make a post on mom/baby style and products. Let me introduce you to

Stylish Mom and Modern Baby

, a new feature that will run weekly. You'll find here latest and best for you and your baby. 
I am often asked about my stroller, and I am happy to repeat once again that we absolutely LOVE Stokke Xplory. You can read my reasons here, but I want to expand on one particular question. 
Many people ask and wonder - "is it worth spending more then $$ ( name your number)  on a stroller? After all, the baby is going to grow out in just a couple of years..."...
My answer is : ABSOLUTELY. 
You are not just spending money on a look ( although it is FABULOUS, you must agree. Did you know that Stokke Xplory has a place in MoMA? It's that cool!). Stokke has carefully studied and is particularly focusing on a SPINE DEVELOPMENT of a baby and child. If you are not familiar with their TRIPP TRAPP , you must read about it. 
Xplory is designed with equal attention to developing baby spines ( which are so important at such gentle age), and also baby-parent connection, which sets the grounds for a confident child and successful adult. And while there are other strollers on the market , absolutely none come even close to what Stokke Xplory can offer. Trust my word - we've tested more then enough for our share ( we are talking double digits), and are yet to find a better one. 
There is one more thing. Baby's comfort equals happy mama. THAT cannot be beat.