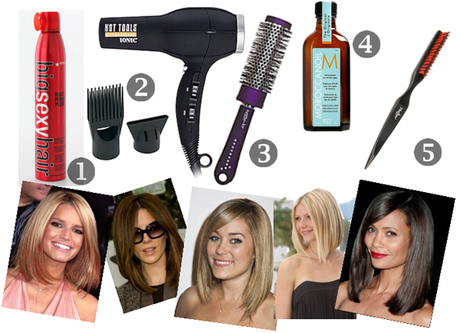 I've had my new haircut for about a week—so I've had plenty of opportunities to try just about everything with my freshly cut long-bob. Bottom line is that my hair had been to the middle of my back for well over a decade—so it was time to start fresh and try something new. Aside from how much healthier my hair feels, I'm having a lot of fun experimenting with my new 'do. Trust me when I say that in a week's time I have a tried a lot of different products and tools and these are the ones I am currently favoring:
1. Big Sexy Hair Root Pump ($18.00): With a bob, getting volume at your roots, particularly at the crown of your head, is key. This root pump has a controlled applicator that allows you to spray the mouse-like volumizer directly onto the roots.
2. Hot Tools Ionic Dryer, $30.00): Well, I finally understand what that smooshed little attachment is for: styling a bob. It is pretty amazing and I don't know how anyone with shorter hair survives without one.
3.  1.5″ to 2″ Round Brush ($5.00+): I've tried all sizes—and while the 3″ barrels are great for getting lift—I've learned that the key to a sleek, flipped under bob lies in the 1.5″-2″ size round brushes.
4. Moroccan Oil ($34.00): Have you tried this stuff? More importantly, have you smelled this stuff? Moroccan oil offers shine without adding weight to your hair–it's the best of both worlds and in my opinion it is an absolutely necessity for a gal with a bob…did I mention it smells great? It's a bit pricey, but your local salon probably sells a smaller bottle that will cost far less than the full-size version.
5. The Marilyn Teasing Brush ($14.00): If you are a person who tends to tease your hair in order to add volume—you have to own one of these brushes! It's unreal how much more volume you can achieve using one of these versus a traditional comb. It's also a multi-tasking tool, as the pointed end is great for parting and lifting hair while adding root-lift or other products.
I've also included some of the photos from my haircut pinboard that I used for my long-bob inspiration. Check out some of the celebs that have totally owned the long-bob! Do you have one? I would *love* to hear what products, tools and tips you have discovered!