Even if you've never set foot in France, it's hard not to be drawn to the stunning, classic style. While we often think of French country or more opulent designs, French Eclectic melds formal and casual, dramatic and inviting, and past and present. If you're drawn to antiques, the feminine curves of 18th century French furniture, classical Renaissance architecture, and rustic elements, yet still like to infuse your space with a chic modern sensibility and unexpected accessories, the French Eclectic style may resonate with you. Here's a primer: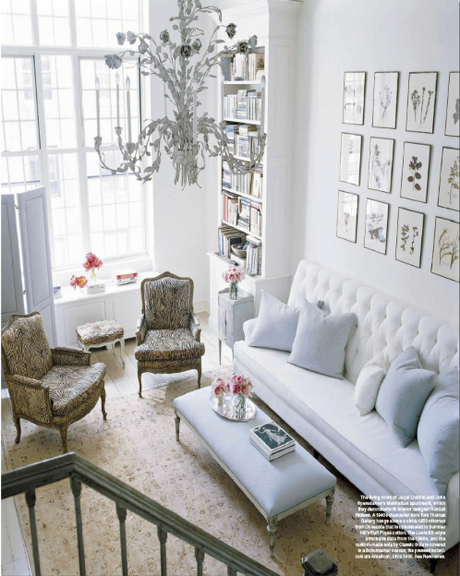 Photo from flickr via Elle Decor.
This style often uses a light airy backdrop to allow certain pieces, such as this 1940′s chandelier, to act as a focal point. Louis XV-style chairs and a stool are updated with animal print. The faded, antique rug pulls the neutral color scheme together, while the ottoman (circa 1850) is a nod to the past. The curved shapes of the classic furniture are balanced nicely with the clean lines of the couch. As in any eclectic design, various eras and aesthetics are combined, such as the addition of a gallery wall comprised of American pressed botanicals.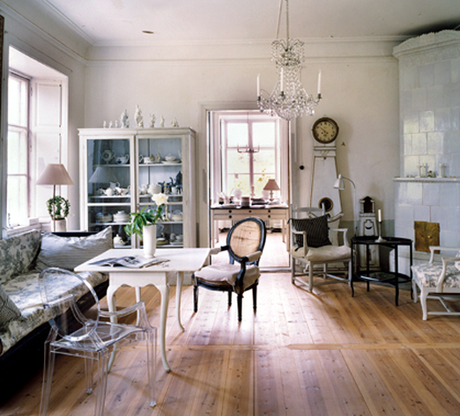 Photo via Marissa Waddell Interiors.
This is the epitome of an eclectic space. The Louis Ghost chair is a modern classic and plays off of the aesthetic of the classic Louis XV armchair. When it comes to space planning with this style, conversation areas are a must, as illustrated above. The floor, distressed woods, and pops of white French country-inspired furniture are rustic touches. Antiques and flea-market finds are an important element and this room definitely gives the impression that its evolved over time. The chandelier is elegant, creating contrast with the more relaxed atmosphere.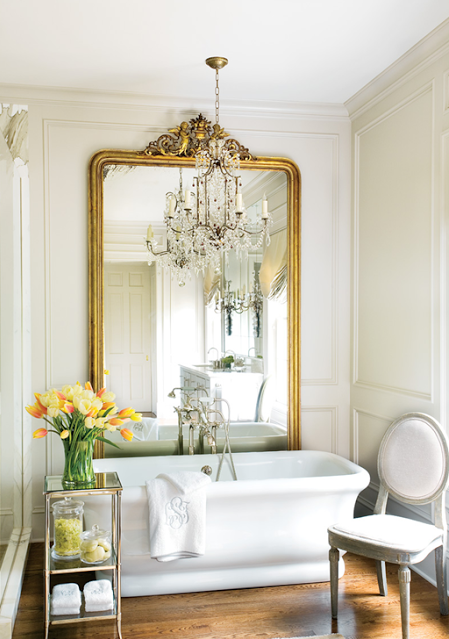 Photo via Atlanta Homes & Lifestyles.
This master bathroom falls more under Parisian chic than French countryside. Gold accents are another element of French Eclectic style. The refined mirror, a 19th century antique, and the beautiful chandelier both hail from France. To the left (not pictured) is a decidedly modern glassed enclosed shower. The two distinct styles are harmonized through the use of marble. which blends perfectly with the six-foot white tub.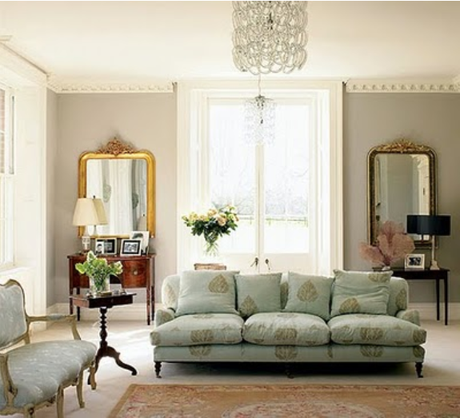 Photo via Creative Outpour.
Antique gold mirrors, classic furniture, and a sparkling chandelier are reminiscent of French royalty. As with most spaces decorated in the French Eclectic style, the walls are neutral, think white, grey, and creams. While a sedate color scheme is often accented with warm reds and golds, this space puts a twist on the theme with pale blues and greens.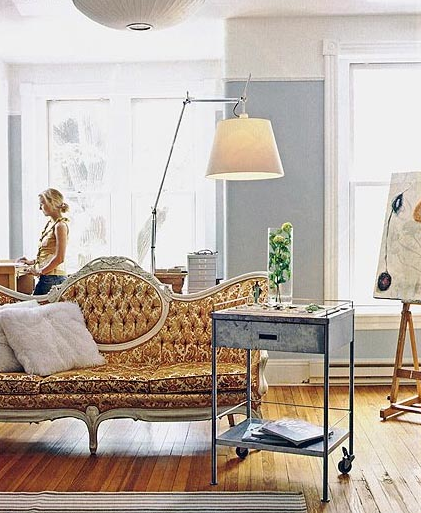 Photo via Sproost.com.
For those who don't like the gilded look, wood-framed furniture in this style is often left untouched and natural or painted white. The vintage French sofa, rustic floors, modern floor lamp, and industrial style side table are a true cohesive mix of styles and texture. For a bohemian look, combine high and low accents. The easel gives it an inviting and artistic feel. Don't be afraid to bring materials like wrought-iron in to the space to bring more over-the-top pieces down to earth.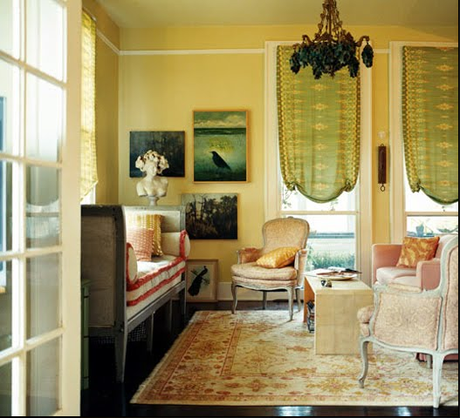 Photo via Anatomical Heart.
Classic French antique armchairs are paired with an antique rug, a modern table, and eclectic artwork. The funky chandelier is a surprising feature. The space also uses warm accent colors typically seen in the French countryside, such as yellow, orange, and red.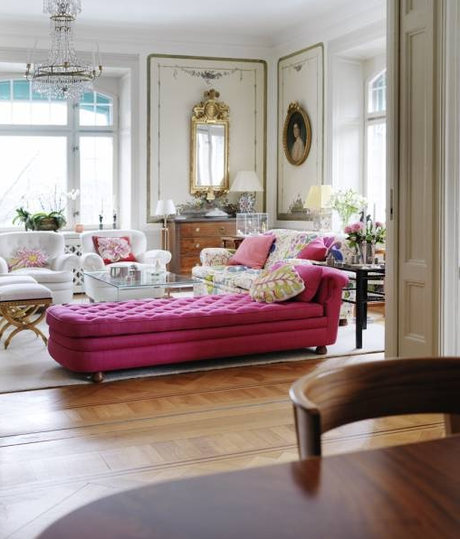 Photo via Skonahem.
If you're going to go eclectic, there's nothing wrong with going bold. The hot pink chaise and combination of floral and pink fabrics makes this French Eclectic interior fun and unique. Modern elements are paired with French antiques, a stunning chandelier, and gold accents, making it quirky luxe.
Do you identify with this style? Which are your favorite spaces?