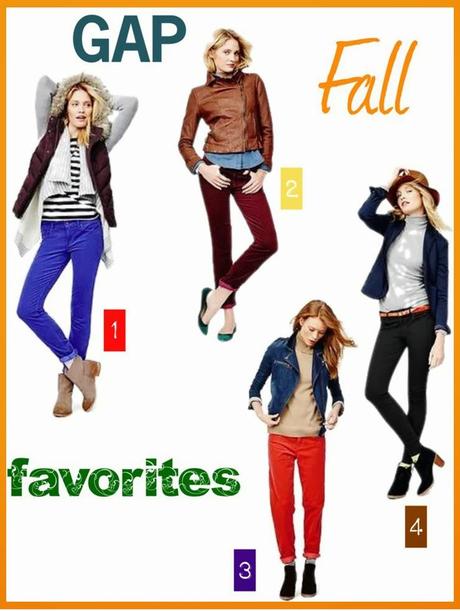 Fall style and fashion has to be one of my favorite ones, if not THE one. Give me some layers, sweaters, jackets and nice footwear, and the creative possibilities are unlimited. Out of 1001 and more places to choose, I want to pause for a minute and talk about GAP. 
If you haven't been recently, stop by your local GAP. You will be pleasantly surprised. The selection is great, colors are vibrant , and - the most important - fit is fantastic. 
Here are a few of my favorites from this fall's collection.  // the real straight cord // comes in many colors and gives you some styling possibilities - choose tighter fit for a long and lean look or size up and roll the hem for the skinny boyfriend style // fur-trim puffer vest // will be your go-to for this chilly, but not quite cold yet, fall weather. layer up with some warm cashmere in winter and you are ready for the skating ring. // sexy boyfriend cords // - be it cords or jeans, GAP by far got the best fit in these. kill two birds in one shot : keep your budget happy and love your reflection in the mirror too! //denim motto jacket // quilted leather motto jacket // whichever it is you are on the market for, i do love the slightly cropped fit and slim, but not too skinny ( so that you CAN layer up for colder months) arms make it a hit for me. // academy blazer // never underestimate the power of a good blazer. love the detailing on the collar and lining this season! // suede booties // these will keep you on trend, comfortable, warm and won't break the bank. everyone needs a pair. // pointed toe flats // fun colors and ultra comfort put these flats on the "best seller" list. check for more color options at your local store - the green ones are to die for!
We've talked about how to choose best skinny jeans before, and if you haven't yet, DO give GAP always skinny a try. Keep in mind this : from personal experience and many other reviews and opinions, it is a fact that GAP's different washes/styles can vary up to two sizes in fit. Just remember to grab a pair up and a pair down you usual size and I'm sure you'll come out smiling out of the store.
ps: use code GAPNEW for 30% off your purchase. how is this not a great reason to add a piece or two to your wardrobe?!