Styal Lodge - Your Perfect Wedding In Cheshire
If you are looking for a wedding venue in Cheshire then Styal Lodge should be on your list. This is one of the best wedding venues in Cheshire. Offering bespoke wedding packages, this beautiful location is run by a small family who strive to give every couple a perfect wedding. Like most couples, if you are looking for something unique, Styal Lodge offers flexibility to create your own celebration. Heres a couple of things worth knowing about the venue.
Styal Lodge Weddings
Nothing beats a wedding venue that's specifically built to serve its purpose, the Lodge was designed from scratch to accommodate all types of weddings. Perfect for wedding photography, the Lodge is spacious and has an open plan area which can be divided with a curtain to create a private ceremony space.
You're probably reading this and asking yourself 'how many people can the lodge actually accommodate?' The good news is the venue can cater for a good number of people. With the ability to accommodate 160 guests with the potential to reach 180 for the evening reception, you're sure to have a great time here.
Here are a couple of cool things worth knowing
The venue Is also licensed for Civil Ceremonies (if required)
Holds a maximum of 160 seated guests, this can be extended for an evening party up to 180
Exclusive to you and your guests throughout the wedding day
You can book the venue from 10.00am till 1.00am
Style Lodge has Private Bridal sitting room with en-suite bathroom, dressing table, sofas, iPod
dock and DVD player for any little ones who need entertaining
Music system with a microphone, projector and video screen
Outside terrace has plenty of seating and a garden area with a love seat,
it's also perfect for guests and photography
Wedding Catering
of course, a wedding is not a wedding without great food. If food is at the top of your planning list then that's another good reason to consider style Lodge for your wedding in Cheshire. The location offers a small family firm of caterers dedicated to producing high-quality food from locally sourced ingredients. Sarah and her team offer something exclusive for all couples. Rather than sticking to a standard set breakfast menu, the caterers offer you the option to choose your food. Yes, that's right! you get to choose your own food!. On top of this, you can also sample your desired menu in your own home with up to 6 people. Let's just call it a private dinner party with lots of fun at no cost.
"We've been at the Lodge since the opening day and have been involved in 50 to 60 weddings each year here. We've probably already got a solution to most of the problems that might be concerning you.....so don't stress....just ring me on 07768 530796. We work most evenings....if I don't answer it's probably because I'm chatting with another couple, so just leave me a text and I'll be straight back to you." - Sarah - Pink Pepper
Wedding Reviews On TripAdvisor
"We attended a wedding here and were completely blown away by the professionalism and competence of staff, not to mention the gorgeous setting. Although the venue is modern, it has a very rustic feel to it and the enclosed garden area is perfect for a summer wedding..." Read more
"Just attended nephew's wedding at Styal lodge, beautiful environment, attentive staff, all decorations as the coup!e desires..."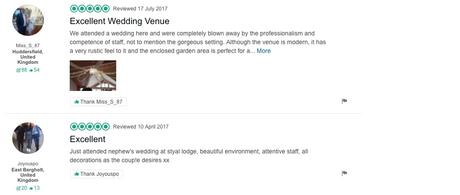 Styal Lodge Wedding Packages & Prices
Whether you a planning a wedding on a budget or thinking of splashing out, nothing beats the Service and uniqueness that Styal Lodge offers. Depending on what day or season your wedding falls on, the wedding prices range between £3950 - £5500. Heres what's also included in the hire fee :
Full and exclusive use of Styal Lodge for you and your guests on your wedding day from 10.00am to 1.00am.
Civil Ceremony if required.
All tables and chairs (max 160).
8 Sofas and low bar tables to create 'chill-out' areas
PA system for speeches, and an iPod dock station so you can play your own ceremony and background music
Use of private outside terrace and garden and the lakeside platform for photos
Bridal sitting room for the wedding couple and family to use throughout the day
Support from the Lodge team when you book and throughout the planning stages to on the wedding day
Special rates with local hotels to pass onto your guests
And of course, Plenty of parking
Cover Venue Photo by Andrew Keher