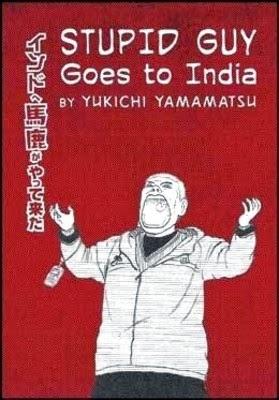 There are a number of interesting facts that make Stupid Guy Goes to India a must read; it's a travelogue in its soul, a Manga comic at heart, but most importantly it is a celebration of the human spirit.
Being a Manga comic, written by Yukichi Yamamatsu, the first thing that strikes you, the reader, is that you need get used to reading it from back to front and from left to right. Not a gargantuan task mind you, as it takes about a couple of pages and then you get used to it. So, you would imagine this is the first ever "Indian Manga". Well, you would be wrong in thinking that.
The book, translated by Kumar Sivasubramanian, is the true story of the author, a Manga artist in his native Japan, coming to India to sell Manga comics translated in the local language. What follows is a chaotic journey into the underbelly of Delhi and a lesson in life, primarily for the author, but also for those that read the book.
Stupid Guy Goes to India is clichéd, to the core. You get to read about situations that we, as Indians, have been hearing of or know of for years; the food and water being unhygienic, the language barriers, people trying to rip off tourists and the likes. It's all there and yes being an Indian it hurts, but there is honesty in what we see on the pages. In fact that is the one aspect of the book that stands up and above everything else, that Yamamatsu doesn't hold back and writes/draws it as it is, with unashamed honesty, including the time he decides to go and pay for a prostitute.
Although the book has a very limited outlook towards Delhi, almost forgoing the more "rich" parts of the city, it serves as a way to study the thriving backpacking culture of the city. Living in small crowded areas, getting a Japanese book translated in Hindi, multiple frustrating visits to the publishers, and trying to make ends meet with one ingenious idea after another, Stupid Guy Goes to India is also a story of human nature and its resilience to overcome the hardest of situations. Yamamatsu's grand plan to publish a Manga in India, while having battled cancer, and readily face one obstacle after another, is nothing short of the triumph of human will.
The reader needs to look at Stupid Guy Goes to India in depth. On the surface it might seem like the any story of a tourist who has spent some time in India. It might even serve as a great guide to help you prepare for a trip to India, but it is Yamamamtsu and his never say die attitude that emerges as the "real story" and what makes the book a heart-warming and crazy adventure that one can only dream about.    
This is an unbiased review of the book that was sent by Blaft Publications. Thank you to the publishers for the opportunity.