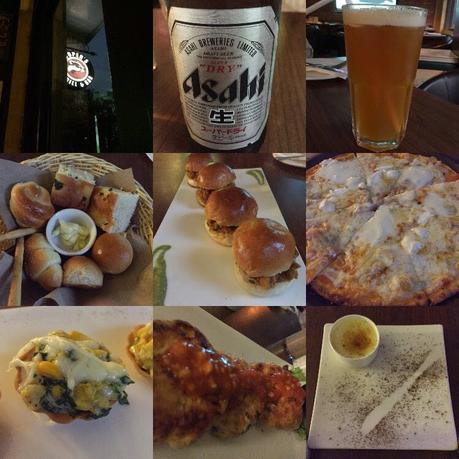 Who would have thought that Zomato would be responsible for helping me with my romantic life? Their discount coupons, in this case for Rs 1000, have been really awesome and give a chance for the wife and I to sneak out for a couple of hours every now and then, without the kids, on a quiet date. This time around it was the Cooper's Grill & Bar situated a stone throws away (provided you're of the caliber to become an Olympic stone thrower) from where I live, which has received fairly positive reviews from people I know.
Cooper's is right in front of Star Mall and being a corner property makes the most of the location by having big glass windows all around which in turn gives its average size a much bigger, more open, feel. It has a combination of couches, single sofas, and chairs giving the customer a nice little variety to rest their bottoms on, and the placement is such that the restaurant doesn't come across as either empty or crowded. The music at Cooper's is very 80s-90s Rock and Pop which was a hit with my wife and she was happy to give the place a 5/5 rating simply based on this. Amateurs I tell Ya!
I, on the other hand, was quite impressed with the service. Everyone was genuinely friendly and attended the table with smiles on their faces. The ambience is similar to most bar and grills, however the section we sat in was low on light. Copper's does have free WiFi, and I was easily able to connect to it, however it was so slow that I could not even check-in to the restaurant.
The drinks and food menus are quite extensive with a wide variety of products. I decided to go with a pint of Asahi and the wife chose a Peach Ice Tea which was what one gets everywhere, that is, not made with fresh products. The food menu caters to the carnivores a lot more than to the herbivores; nevertheless it has enough that no one would go hungry.
The food in general was good. The Soya Sliders had a mildly spicy soya filling in small soft buns which would work well with any drink you're having. The same also goes for the Spinach and Corn Tarts which had a nice crunch and the filling was hot and cheesy. However do remember that these are "starters" so the quantity is just right for two people. In case you're a big group, order more. As a result I did order a Chicken Lemongrass Kibbeh towards the end of the meal. Now, the chicken was tender and juicy, but lacked the lemongrass flavor that should have been dominant. Moreover, there was chilly sauce on the chicken kibbeh which made it quite spicy and further killed any lemongrass taste that was present. It's not bad at all, however the flavours need a little working on.
For the mains, we went with a simple Four-Cheese Pizza comprising of Buffalo, Cheddar, Danish Blue, and Ricotta. Not being a cheese connoisseur, I could still identify a couple of cheeses and overall I liked the fact that the pizza had the simple cheese toppings and nothing else (there was a thin tomato sauce spread on the surface of the base). The base was thin, very thin, and crunchy and very much to my liking. A little heads up, looks can be deceiving, and this thin crust 12"cheese pizza is quite heavy on the stomach, so keep that in mind.
For dessert we tried the House Br
û
lée. All the food was presented in a pretty fashion so it's clear that thought has gone into the presentation and not just the taste. The Br
û
lée was creamy with perfect sweetness and the thin layer of crackle on top was delicious.
Cooper's Grill & Bar works for the customer on a number of occasions; you can visit it for some drinks after work, or have a quick bite if not too hungry, and lastly it also works well for a place to have a proper dinner. The restaurant is comfortable, easy going and some of the neighbourhood apartment complexes even get a 15% discount. In short, Cooper's Grill and Bar is recommended and on my visit-again list.