We've all heard of cases where a suspect or a corpse was identified by his distinctive tattoo. And other criminals have been done in by maps and "To Do" lists recovered by the police. You know, the dude had a hand-drawn map to the victim's home, maybe even a sketch of the interior, and a list that reminded him of everything he had to do to do the deed. Things like: gloves, mask, duct tape, gun, and, oh yeah, top off the gas tank in case a chase ensues.
One Anthony Garcia can top all of that. He supposedly belongs to the Rivera-13 gang in Pico Rivera, CA. He allegedly shot and killed 23-year-old John Juarez in a liquor store 4 years ago. He got away with it. Almost.
LA County Sheriff's Department homicide investigator Kevin Lloyd was flipping through a collect of gang member tattoos when he stumbled on Garcia's image. Imagine his shock when he saw that Garcia had a detailed tattoo of the crime scene splashed across his chest under the banner "Rivera Kills."
It'll be interesting to see how they use this is court but one thing I know for sure—if you put this in a book, no one would believe it.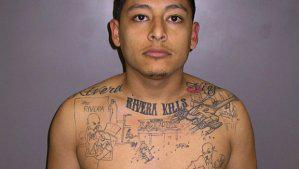 On the PopPressed Radar

Print Magazine's New Visual Artists

Saint Petersburg Unveils Primorskiy Zoological Park with Geodesic Domes

What One Does In Paris if One is a Carter or Knowles