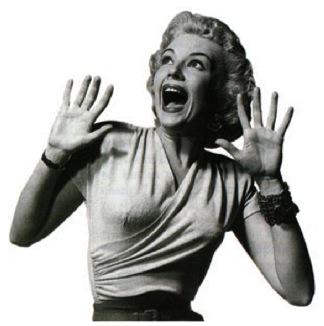 Is your beauty routine screaming snoozeville, gals? Then it's time to break the same ole', same ole' cycle. We've all been there…your glamour regimen becomes like your favorite pair of jeans you've had since high school: comfortable. You tell yourself your style is timeless. But while classic and timeless are great adjectives to use for fashion – makeup trends, hairstyles, and beauty product requirements need to be regularly updated. Think about it for a moment. You're using the same moisturizer you did five years ago…but your skin isn't the same it was five years ago (damn you, crows' feet). The same goes for your makeup and hair. (Speaking of…I'm still hanging on to the Rachel Green/Friends haircut. Must. Update. This.)
Hey, It's certainly easy to fall into a beauty rut as we gals tend to be fiercely loyal and all about following a routine, day in and day out. Well, it's time to shake things up, gals! Here are a few beauty rut fixes that are super easy to do and yield dramatic, noticeable results:
Lips. We all have our go-to favorite lipstick color. (I've been sporting the same nude pink color since N SYNC released their first album.) Changing up your day-to-day lip color is the easiest way to make a dramatic change. This season, bold, deep lip colors are a must. Try a bright coral or rich red. Dramatic lips are an instant eye-catcher. Worried about picking a new color that works for you? Take a trip to your local Sephora or Ulta and test out a boatload of colors until you find the perfect shade.
Eyes. I'm guilty of wearing a basic tan shadow that could bore even a non-makeup wearer to tears. The eyes are the most noticeable feature on your face and can be the difference between boring and oh, my. However, eye shadow combos, perfectly smudged or drawn liner, and picking the best mascara can be daunting. I highly, highly recommend heading to your local beauty counter and asking for a makeover. Tell the makeup specialist you're stuck in a beauty rut and in dire need of some updating tips. It's also important to tell them what your beauty regimen preferences are (e.g. you only have 20 minutes to spend on makeup before scrambling to work).
Hair. Hair is another dramatic way to break free of a beauty rut. Whether a new style or simply a new color, changing your hair can work wonders for spicing up your beauty life. For hair ideas, check out Daily Makeover. Their site offers hairstyles galore. You can upload your own photo and try out various styles and colors before committing to them.
Skin. This is an important one, ladies. Our skin is our number one beauty feature…our "canvas." So when our skin is dull and filled with fine lines, it's drab city from the neck up. But when our skin is fresh and glowing, it makes a face really shine. Unfortunately, as we age, so does our skin. What worked in our 20s may not be the best regimen for our 30s or 40s or 50s. Determine your specific skin needs and update your current skin products, ASAP.
Fashion factor. I am a firm believer that the wardrobe is like the body: it needs to be detoxed every six months. Fashion goes hand in hand with your beauty style. Whether a casual-chic gal or a dressed-to-the-nines gal, you can easily keep your fashion current and reflective of your style by routinely going through your closet (clothes, shoes, and accessories) and "cleansing" it of pieces that are out of style, worn out, or just plain unflattering…starting with those high-waisted mom jeans you've been hanging onto…
I hope these easy-to-do fixes have inspired you to break the beauty rut! Whether it's a simple, single change you're looking for or the whole enchilada, these rut-free tips are a foolproof way to go from blah and boring to updated and dazzling.
As for me, the 90s called…they wanted their hair and makeup style back. I gladly gave them up…