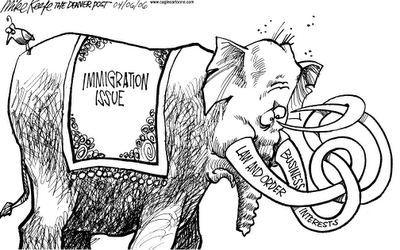 (The above cartoon is by Mike Keefe in The Denver Post.)
Many congressional Republicans still oppose immigration reform. They want to shut down the border (just the southern border) and deport all the brown-skinned people in this country without documentation (the white-skinned undocumented immigrants from Canada and Europe are OK though). This is a silly stance they have taken -- considering that we are a nation of immigrants (both legal and illegal), that the number of undocumented immigrants has now leveled off (with as many leaving as are entering -- thanks to the recession), and most of our border already meets the highest security standards of Homeland Security.
The stance is silly in one more way. It puts them as a party, once more taking an extreme view on policy -- a view that is not supported by the huge majority of the American population (including the majority of voters in their own party). This stance will just further tarnish the GOP as a minority extremist party.
This is verified by a new Gallup Poll (conducted on January 30th and 31st of 1,019 randomly chosen adults nationwide). The poll has a margin of error of 4 points -- a margin that is easily eclipsed by the significant majorities in favor of all the proposed immigration reforms. Here are some of the numbers (with the numbers given being those who would vote yes):
WOULD YOU VOTE FOR A LAW REQUIRING EMPLOYERS TO VERIFY NEW HIRES ARE IN THE U.S. LEGALLY?
General public...............85%
Republicans...............95%
Independents...............85%
Democrats...............77%
WOULD YOU VOTE FOR A LAW ALLOWING UNDOCUMENTED IMMIGRANTS LIVING IN THE U.S. TO BECOME LEGAL RESIDENTS OR CITIZENS?
General public...............72%
Republicans...............59%
Independents...............68%
Democrats...............90%
Significant majorities, in the general public and all three political persuasions, would also vote to increase spending on border security, develop a system to track departures of foreign nationals at airports and sea ports, and increase the availability of legal visas for those with skills in science and technology.
Americans are tired of the fight over immigration. They are ready for sensible immigration reforms. It is time for the Republican Party to get in step with the American people, and help the Democrats reform our ridiculous immigration laws.