Strollers offer one way for dog owners to get around with pooches that are sick, elderly, or just a little lazy.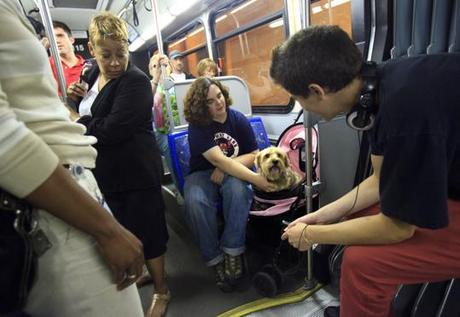 It shouldn't be a big deal in this pet-centric world, where the sight of a dog wearing Ralph Lauren, or checking into a five-star hotel with his owner, or dining on organic, locally sourced food, barely causes a stir.
"Sometimes people make snide remarks," said April Soderstrom of her 35-pound French bulldog who accompanies her in a jogging stroller. "Or they point and laugh, and hint that 5-year-old Louis is a diva."
Let the public mock. The white dog with the big pink ears has long struggled with a bad back and hips, but he got around okay until a few months ago when he injured a knee, making the two-block walk to the park impossible. "But I wanted to keep him happy," Soderstrom said.
She carried him back and forth for awhile, but that was exhausting. Enter a $130 dog stroller from eBay. "Louis loves it," she said. "He stands right next to it, waiting to be picked up and put in."
It's probably too early to declare dogs in strollers a full-blown trend, but the signs are building. (In certain neighborhoods of Manhattan, Los Angeles, and southern Florida, it's actually unusual for dogs to be walking.)
In the Boston area, two Pekingese pups were spotted recently riding in a stroller in the Prudential Center. A Yorkie was seen riding in the South End, where a cat was also seen taking a drive. In Cambridge, a long-haired  Dachshund was parked in a stroller in front of a a market. Reports of stroller dogs enjoying the waterfront have also been made.
At a pet-friendly hotel, canine guests have begun arriving in strollers, particularly in the winter, as their owners think it's a good way to protect their paws from ice-melting salt. (A stroller even helped one guest sneak a pooch into the hotel, until a staffer noticed that the body in the stroller was a tad furry.)
A dog stroller also made the iconic September issue of Vogue magazine. "Two days before my dog Rose died, I put her in the stroller and pushed her down the sidewalk," the best-selling author Ann Patchett wrote. "When my friend Norma bought Rose a dog stroller the summer before, I hadn't wanted it, but feelings of idiocy were quick to give way to Rose's obvious pleasure."
The stroller movement is a natural next step in the increase of spending on pet health care, along with a growing population of elderly pets, and an increasing belief that our pets are not our animals, but rather our children.
In 2001, U.S. pet owners spent $7.1 billion on pet health care, a number that jumped to $13.41 billion in 2011, according to the American Pet Products Association. Along with that spending has come an increase in the percentage of senior pets that have benefited from life-prolonging therapies and need help getting around.
But strollers are not just for infirm or elderly pets. Some are for perfectly mobile pups that are more like children than just dogs. Because dogs can be zipped securely into their strollers, the carriages allow the dogs to accompany their owners on an entire day's worth of activities. There was a time when these dogs would have stayed at home.
Tags: dog activities, dog mobility, dog strollers, senior dogs, Sick dogs