Susan Heim on Parenting is pleased to be a stop on the book tour for Stress Free Kids: A Parent's Guide to Helping Build Self-Esteem, Manage Stress, and Reduce Anxiety in Children, by Lori Lite. Read on to learn more about this book and the author, as well as an excerpt from the book containing tips to help you find peace during mealtimes!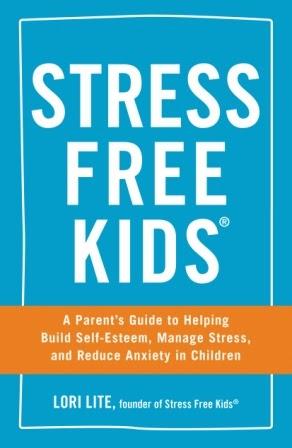 About this book:
Kids today are stressed, overwhelmed, and struggling with anxiety more than ever before. Children are not born with the coping strategies needed to navigate today's increasing demands of technology, bullying, academics, and family dynamics. You yourself might wonder how your own stressed-out lifestyle is affecting your children. Based on Lori Lite's award-winning series, Stress Free Kids provides relaxation techniques you can use to free your child from stress.
Lite shows you how to apply breathing, visualizations, affirmations, and muscle relation exercises effortlessly throughout the day. These parenting solutions to everyday stressors will reduce worries and anxiety while increasing self-esteem. You and your children will gain freedom as you live a more joy-filled life with less stress.
With this complete resource as your guide, your family will create your own collection of stress-free moments that add up to peace and confidence -- for you and your children.
Purchase Stress Free Kids on Amazon!
About the author:
Award-winning childhood stress expert Lori Lite created her Stress Free Kids curriculum to alleviate her children's stress and to help them sleep peacefully. Lite is author of the Indigo Dreams series, which has been awarded the CNE Award of Excellence, and has been featured on several media outlets, including CBS News, USA Today, Web MD, Family Circle magazine, and Prevention magazine. You can visit her website at www.stressfreekids.com.
Excerpt:
Peace at … Mealtimes
Children are notoriously picky eaters and this inevitably turns what should be a time to catch up with family into a stressful event. Luckily, there are steps you can take to make mealtimes more pleasant for everyone -- and raise your children with healthy, open-minded eating habits.
Get your child involved. When you go to the grocery store or farmers' market, bring your child with you and ask for her help picking out items. You might even plan an outing to a local farm so that your family can learn firsthand where food comes from. When you're preparing meals, identify age-appropriate tasks they can help out with, such as putting salad into bowls or washing veggies. Kids will be proud of their contributions and more likely to eat the fruits of their labor.
Make one meal for the whole family. While it can be tempting to create multiple dishes so that you can serve both adult food and a kids' meal, it sends a message to your kids that they're not expected to make the same healthy choices that adults are. Cook one meal that includes at least one item you know your kids will eat and give up that second career of an at-home short-order cook!
Serve meals at the same time every night. When your family sits down to dinner at the same time every night, it expresses the importance of both eating and gathering as a family unit. Turn off the television and power down cell phones. Remove distractions and take the time to enjoy dinner and each other's company. Be flexible. If dinner togetherness doesn't work for your family, try a family breakfast routine.
Don't force a child to eat something he doesn't like. Don't get frustrated if your child doesn't want to try a healthy food right away. The more times you expose your child to broccoli, the better your chances are that he will decide to give it a try. Some studies suggest that this could mean ten to fifteen times! If your child is not willing to try a food, don't force him to eat it or make a big deal out of his refusal. Present other healthy alternatives and set that broccoli out on the table again and again as an option.
Give up membership to the clean-plate club. Present healthy, nourishing options at mealtimes, then let your child select what and how much of each food she wants. Rather than forcing a child to eat a certain amount, allow her hunger to dictate her serving sizes. This relaxed attitude eliminates unnecessary power struggles.
Don't use food as a bribe. When you reward a child with a dessert after he eats all of his vegetables, you reinforce the belief that healthy foods are something to suffer through so he can get to the "good stuff" (i.e., sugary sweets). Treat foods neutrally, instead, and you may find that your child enjoys homemade applesauce sweetened with honey more than a sundae with storebought chocolate syrup.
Share a meal and a story. When you share healthy meals with your children, tell them how much you're enjoying the roasted vegetables or apple slices on your plate. If you used to hate Brussels sprouts when you were younger, but now you love them roasted with a little bit of olive oil, share that story! This will open their minds to the possibility of one day enjoying a food they didn't think they would ever appreciate. Your child will delight in knowing that you, too, have made some dietary adjustments based on your evolving taste buds.
Excerpted from Stress Free Kids® Copyright © 2014 by Lori Lite and published by F+W Media, Inc. Used by permission of the publisher. All rights reserved.