Spot Fired
Sad Times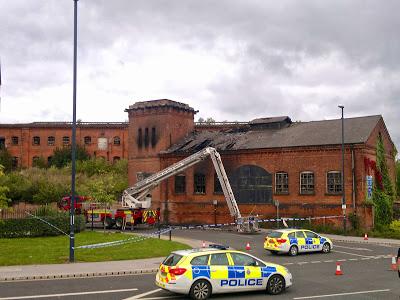 This morning one of the main roads we use was cordoned off by the police...
Wandered what was crackin off, we went to the other side of the detour to find one of our favorite Derby building had been hit by fire. This site is just off Great Northern Road was originally the Friargate Station, Goods Yard and Depot which was built in 1876. These buildings are Grade 2 listed and have been slowly degrading for many years. 
The Derby Council are responsible for this site and with the large depot (in the distance in these pics) losing it's roof years ago, which sped up the deterioration of the structure. So why did this near pristine building catch fire when, (as far as we know) it was locked up. 
Sure makes you think that if this structure fell into disorder, then the council could rip-down both building and have an ideal spot for redevelopment... say know more??