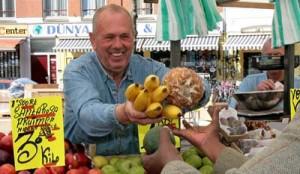 No visit to Amsterdam would be complete without a wander through some of the city's most famous outdoor attractions: markets.
Nearly every neighbourhood has its own unique outdoor shopping experience, where the local food, wares and other niche items are bought and sold.
From the oldest market in the country, the Albert Cuypmarkt, to the exotic Dappermarkt and the famous Waterlooplein flea market, there is something exciting to be found for everyone.
Like most markets, traders in Amsterdam are not strangers to a good haggle. In fact, one Waterlooplein salesman says, "The price tag isn't meant to stick. I expect a little bargain."
As spring warms Amsterdam, what better way to spend a day than wandering markets, meeting the locals and enjoying the surprisingly different cultures found in this tiny international city.
Amsterdam markets: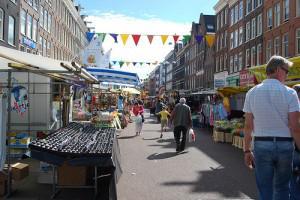 Albert Cuypmarkt – Established in 1905, the Albert Cuypmarkt is the oldest outdoor market in the Netherlands. But that's not all – with over 260 market stands, it is also the largest street market in the country. Expect to find cheese makers, fish hawkers, fresh fruit stands as well as clothing and trinkets on sale. Don't miss a chance to sample the freshly made stroopwaffle snacks, made to order and super sweet!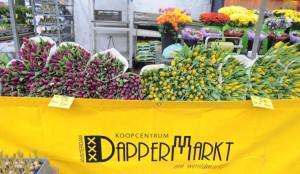 Dappermarkt – The Dappermarkt is a true locals market, reflecting the vibrant and multicultural community of Amsterdam Oost (east). Many Turkish and Moroccan stands are among the market's 200 stalls, offering both specialty eats and souvenirs. Cheap clothes, shoes and textiles are the most popular items, but shoppers can also indulge in fine food specialties including Italian cheeses and olives, Turkish baked goods and of course, the famous shoarma, voted the best outdoor eats by Time Out Amsterdam magazine.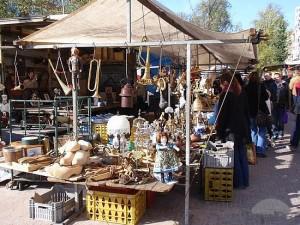 Waterloopleinmarkt – Not the oldest, but certainly the most eclectic, the Waterlooplein is a true flea market experience in Amsterdam. Anyone can claim a space in the sprawling City Hall courtyard and sell their housewares, clothing, shoes and any other hand-me-downs they want to unload. But this yard sale feel is balanced by stands selling the most popular (and cheapest) Amsterdam souviners including clogs, scarves, hats and t-shirts.
Visitor tip: Markets in Amsterdam run Monday to Saturday from 09.00 to 17.00 hours. All are cash-only.