Street hockey (and/or roller hockey) is one of my fondest memories growing up in South Philly. I was an early teen as were most of my friends that played the game with me. These were the days before we had any worries like car payments and mortgages. Our biggest worries were" Where are we going to play hockey today" and "You did what with that girl?" Some times we played on foot (street hockey), but 95% of the time we played in roller blades (roller hockey).
South Philly, at the time, really wasn't too known for decent places to the game. There were some rinks. Some times we had to play another team to use the rink, or we would schedule a game with them. Imagine we used to do this before any of us had cell phones or computers. We all knew where and when to meet up. We would play up small streets in South Philly or the CVS park lot at 10th and Reed Streets which would become our home field. I couldn't even tell you how many times we would get kicked out of there by the CVS employees or neighbors from the back street. We always put up a fight that was because hockey kept us out of trouble.


CVS Parking lot at 10th & Reed Streets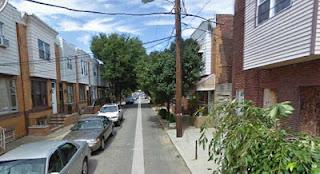 1100 Block of S Cross Street

Our team was known as the Snipers and our farm team was the Tyrants (lol). The Tyrants were our friends and I even remember The Titans from 11th and Jackson. We played teams from all over South Philly, the crew from 6th & Wharton Streets, 19th & Johnson Streets, 9th and Watkins, and many more. These were the days before most of even had a license let along a car, so we would skate all over the city. From 2nd streets to 30th streets, we were there!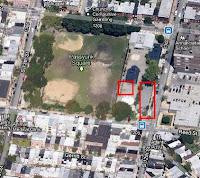 Columbus Square at 12th & Wharton Streets. The red highlights where we used to play. Now there is a dog park there. 
  
Epiphany Church at 11th and Jackson Streets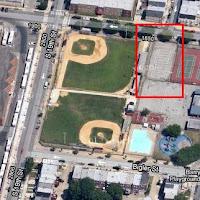 Barry Playground at 19th & Johnson Streets


Rizzo Rink located under I-95 on Front Street off of Washington Ave.

When we played at CVS we always had a crowd of girls to come support us. That was always nice. They would even go run errands for us and get us water or Gatorade. They were our girl friends or just some girls who wanted a piece of The Snipers.

On the really hot days we would skate to Pop's or Italiano's to get water ice.
When we would play amongst ourselves we would all put or sticks on the ground and some one would throw them to a side to determine the teams. We used to use a roll of electrical tape for a puck. We used roller hockey pucks and balls but it wasn't the same. We even got our own jerseys made.

 I think we all wanted to play for the Flyers since we all used to watch them and pretended we were our favorite players. 
As I mentioned earlier we always knew when to meet up, but never wanted to go home. Well most of us. I remember one of our goalies would leave in the middle of any game by 4:55 so he could be home for dinner at five. There would be a puff of smoke around the net and before you knew the goalie was gone. We battled among ourselves but that only made us stronger when it came to playing other teams. Growing up in South Philly was great and I'm thankful that hockey played a major role for me and my friends.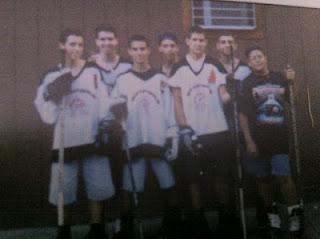 Some of The Snipers- 1996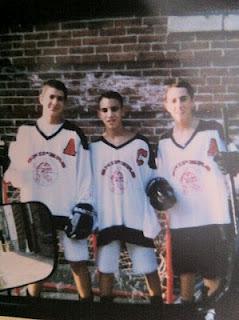 1000 block of Greenwhch Street- 1996