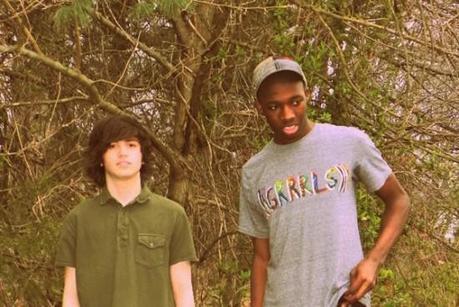 Stray Kites is a two man band from Virginia who don't believe in putting a price tag on music. They pride themselves on giving their songs away for free or allowing listeners to donate what they wish. Their second full length Mieux was released in July and, as with all their music, is available on Bandcamp.
The childlike, colorful, crayon script on the album's cover perfectly matches the exuberant DIY folk/pop music contained within, which the band itself calls "jaunty" and "frantic".  The duo describes this newest album as "cynical" in a way that pervious releases weren't, but it remains upbeat regardless. This kind of music brings a smile to your face more from the energy it exudes than lyrical meaning.
You won't hear many electric guitars on the record, but you will find a lot of kitchen-sink instruments (keys, Casios, xylophones, horns) along with the rapidly strummed acoustic guitars, handclaps and endearing vocals. Lyrically, they mention recurring characters with names like Fuehrer and the Phantom Friends, but the songs are clearly very personal — a notion that is very important to the band's overall sound.  Stray Kites' Mieux is highly recommended and totally worth a donation to make sure they keep unleashing their music on the world.